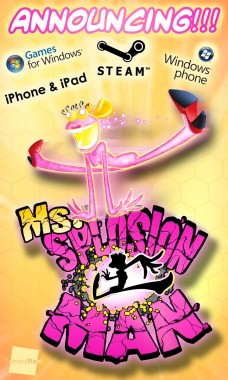 After making a huge splash last summer on the Xbox Live Arcade, Ms. Splosion Man is setting her precious sights on more platforms, as Twisted Pixel announced today that the hit title will now be coming to Steam, Games For Windows LIVE, Windows Phone 7, iPhone and iPad. Assisting in the efforts will be Iron Galaxy, Fire Hose and Panic Button studios.
Here is a bit of a rundown of what to expect, as well as Iron Galaxy's take on porting this pink tube of delicious:
"We are extremely excited to work with Twisted Pixel in bringing splosions to mobile devices," says Iron Galaxy C.E.Bro, Dave Lang. "Ms. Splosion Man has really deep gameplay that is born from deceptively simple controls, so it's a great game on any platform."

The PC version will include 50 single player levels, 50 co-op levels for up to four players locally or online, ghost replays, achievements, unlockables like '2 Girls 1 Controller Mode', and more. The iPhone and iPad versions will be a unique experience built specifically for those devices with familiar content but all new features, objectives and gameplay modes, brought to you by a new version of the BEARD engine that takes utmost advantage of the latest and greatest hardware to make the game look stunning.
"This will be our first mobile game, and only our second Steam game," explains Twisted Pixel's Michael Wilford. "But it's very important to us that we have great content on these high-end platforms, so these new versions are being painstakingly crafted to be as awesome as possible. We're planning a lot of post-launch updates and support to make sure we get it right."
Pretty awesome news, right? Well, there isn't a confirmed date for any of these versions yet, but expect each Ms. to hit this summer for their respective platforms. Until then, check out the awesome new announcement trailer down below, featuring Debbie and Sara.