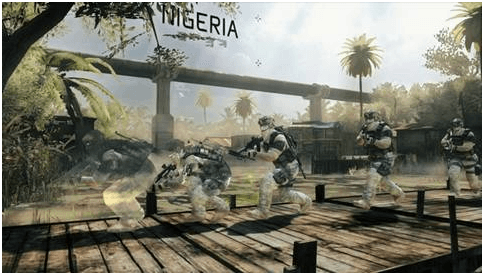 Today Ubisoft announced that Tom Clancy's Ghost Recon Future Soldier for Windows PC will be available in stores and for digital download on June 15th. This comes a short while after the Xbox 360 and PS3 release date on May 25th
PC version specific features:
–      PC high standard visuals (DX11 renderer, new Hi-Quality Assets, new Post Process Effects, multi-monitor solutions support, TriDef stereoscopic support).
–      DirectX11 enhanced: Tessellation (for soft 3D models), Compute Shaders-based realistic lighting (for Global Illumination), Volumetric Fog.
–      Online Widget: Party, Friends and Ghost Feed functionality can be accessed at any moment from any screen.
–      Extended party functionality: simplified and more flexible invitation system.
–      Party text Chat.
–      Uplay Friends system
–      Fully customizable controls for the localized keyboards
A temporary broadband connection will be required for one-time product registration at first launch using the player Uplay account.  From that point on, no permanent connection is required, except for online modes.
Minimum hardware requirements:
Supported Operating Systems: Windows® XP (with Service Pack 3)/Windows Vista® (with Service Pack 2)/ Windows 7® (with Service pack 1), both 32 bit & 64 bit versions
PROCESSOR: Intel Pentium D 3.0 Ghz or AMD Athlon64 X2 4400+ 2.2Ghz
RAM: 1GB Windows XP / 2GB Windows Vista or Windows 7
VIDEO CARD: 256 MB DirectX–compliant, Shader 4.0–enabled video card**
DIRECT X®: DirectX 9.0c
DVD-ROM DRIVE: DVD-ROM speed 4x, dual-layer drive
SOUND CARD: DirectX 9.0c – compliant sound card
HDD space : 25 GB
Recommended Configuration:
CPU: Intel Core2 Quad Q9450/ AMD Phenom II X4 940 or higher
RAM: 2 GB Windows® XP / 3 GB Windows Vista® & 7®
Graphics Card: 1024 MB DirectX–compliant, Shader 4.0–enabled video card based on nVidia GeForce GTX 460 or AMD/ATi HD 5850 or better