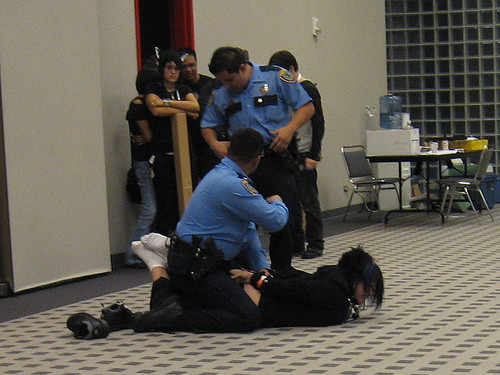 Did you know that Anime Conventions are in fact dangerous? Well the proof is in the pudding, at the Anime Boston convention recently, Police were called to the scene after several calls were made to 911 regarding a 'ruckus' at the event after party.
"Cops were called to the Back Bay Sheraton when a party for fans of Japanese anime got out of control on Easter morning and now the hotel management has been called before the Mayor's Office of Consumer Affairs and Licensing tomorrow.

Police reported "dangerous" overcrowding, pot possession, a passed-out partygoer and an assault at the fete for Anime Boston 2012 fans. The celebration of Japanese cartoons drew thousands of costumed fans to the Hynes Convention Center April 6-8. At 1 a.m. on April 8, cops showed up at a party at the Sheraton, where they reported removing a "clearly disturbed" 20-year-old male who'd been "kicking and punching" EMTs. Officers also confiscated less than an ounce of pot from two people and tended to an unconscious woman. Sheraton management could not be reached for comment."

via. The Boston Herald
If that's not enough to prove that Anime Conventions are dangerous business, for the past two years at the Oni-Con convention Sasuke Uchiha himself was arrested for theft (see image above). He was arrested at the 2010 Oni-Con and then again at the 2011 Oni-Con, both for theft from vendors in the showroom. I guess he took the whole ninja thing a little too seriously?
But in all seriousness, Anime Conventions should not be a place for crime like this to happen. As a community we should all try and keep Anime Conventions as safe as possible, otherwise we all might just end up like Sasuke here, hog-tied and ridden like a pony by Houston's finest. The lesson from all of this? Keep Con's Safe.
Source: Crunchyroll