If you've been a good little reader, you will have played the first ninety games by now. Every single one. And I mean fully finished: every hidden collectable, every alternate path, every high score, every ending.
If so, you've earned my deepest respect. But before you go get those bedsores checked out and begin piecing your life back together, we have just ten more games for you to finish. And there's some real gems in here, that'll be sure to keep you playing until you lose all function in your legs.
So, let's count down the last ten of our 100 Games You Must Play Before You Die.
Remember, the games are in no particular order.
To see the games 1 – 10, click here.
To see the games 11 – 20, click here.
To see the games 21 – 30, click here.
To see the games 31 – 40, click here.
To see the games 41 – 50, click here.
To see the games 51 – 60, click here.
To see the games 61 – 70, click here.
To see the games 71 – 80, click here.
 To see the games 81 – 90, click here.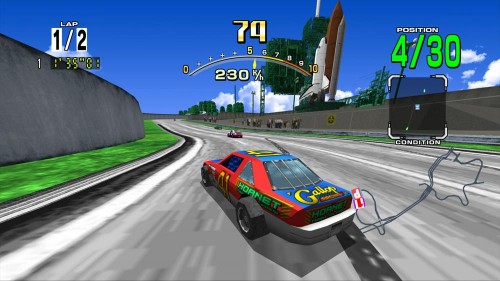 91. Daytona USA
Platform: Arcade
Genre: Racing
Year: 1993
Nominated by: Ben Webb/Jahanzeb Khan
Daytona USA is the penultimate arcade racing experience that will always be the go-to game for drunken racing after a night at the pub.
Whether it was the ultra cheesy and addictive soundtrack full of Japanese Engrish goodness, or the rock solid arcade racing mechanics, Daytona USA is easily among the most entertaining racing games to have ever graced the arcades. Even with a small selection of cars and tracks, Daytona USA was an immensely re-playable and addictive racing game that continues to be a classic example of what makes a great arcade racer. Being one of the most fast-paced racing games available at its time it's unsurprising that the game has lasted as long as it has. Even better, the game had some pretty realistic drifting mechanisms, as well as highly detailed vehicles and environments.
Strangely, some of the best moments I've had with the game have been on a faulty machine with a broken graphics processor, barely able to keep up with the terrain moving around it. If this was any other game, wouldn't it just have frozen and refused to start? It just goes to show how great a game Daytona USA is.
Jump on Xbox Live Arcade for the definitive HD conversion of the game, easily the best home version you can find, complete with a Karaoke mode and network play.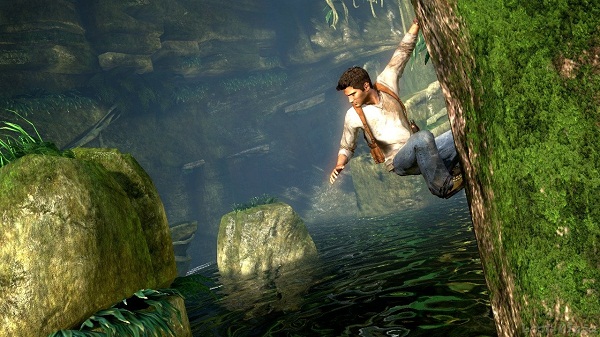 92. Uncharted: Drake's Fortune
Platform: Playstation 3
Genre: Action
Year: 2007
Nominated by: Jed Bradshaw
Uncharted was the game on PS3 that proved Sony had made the right choice by stuffing their system with all that high priced tech.  With its smooth controls, incredible graphics, and astounding plot, Uncharted was destined to be a system seller. Although it suffered from too many gun battles near the end, Uncharted laid the groundwork for a series that would go on to win many GOTY awards.  If you have not experienced the beauty of Uncharted 2, you have not experienced video games.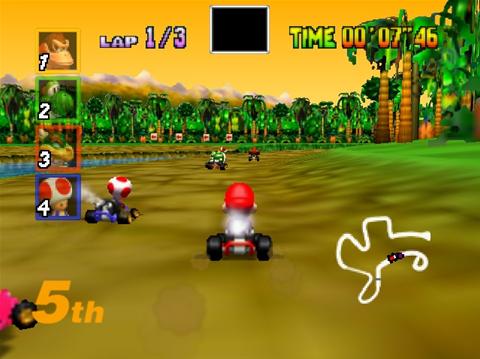 93. Mario Kart 64
Platform: Nintendo 64
Genre: Racing
Year: 1997
Nominated by: Mike Irving
After Super Mario Kart on the SNES essentially created the weapon-based kart-racing sub-genre, Mario Kart 64 expanded on the gameplay.
Judging the best entry in the series is open to personal preference, but in my experience Mario Kart 64 may be the most popular. Moving into true 3D graphics over the Super Nintendo version's pseudo-3D, the 64 version looked fantastic. And with the console's four-player split-screen capabilities, it was more fun than ever to race your friends. Blue-shell trolling is a lot more rewarding when your victims are in the same room.
The game improved on the drifting system, allowing players to turn sharply without losing much speed if done right. The AI, a sticking point in the first game, was also upgraded. No longer did computer-controlled racers follow a single path, only use one weapon each, dependent on their character, and only attack human players. Now racing NPCs was more dynamic, as they avoided obstacles, used most of the available weapons, and widened their attacks to other AI characters as well as players.
It was definitely one of the most fun multiplayer experiences on the Nintendo 64, and is remembered fondly by gamers of all ages.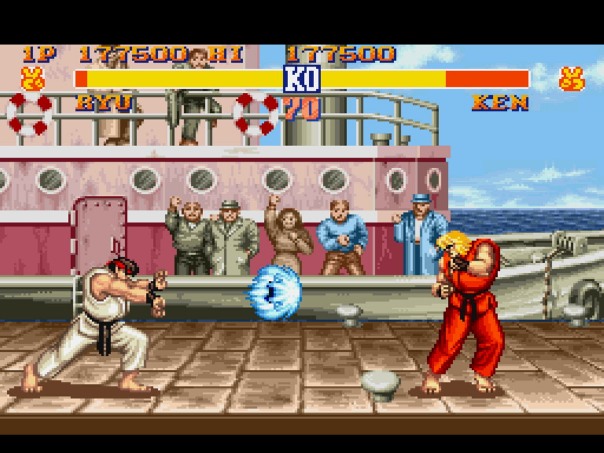 94. Street Fighter II
Platform: Arcade/Super Nintendo
Genre: Fighting
Year: 1991 (arcade), 1992 (SNES)
Nominated by: Jahanzeb Khan
A landmark contribution to the evolution of the video game medium, as without Street Fighter II, none of the many fighting games that we cherish and enjoy today would ever have existed.
Street Fighter II is the blue print of fighting games, even till this very day, and the game itself has aged beautifully. It's still mechanically sound and gets plenty of love in major fighting tournaments and communities all over the world. The SNES port of this arcade classic has created fond childhood memories for many of us, and is a game that is still relatively easy to find. Jump on Xbox Live Arcade now for an enhanced port with network play.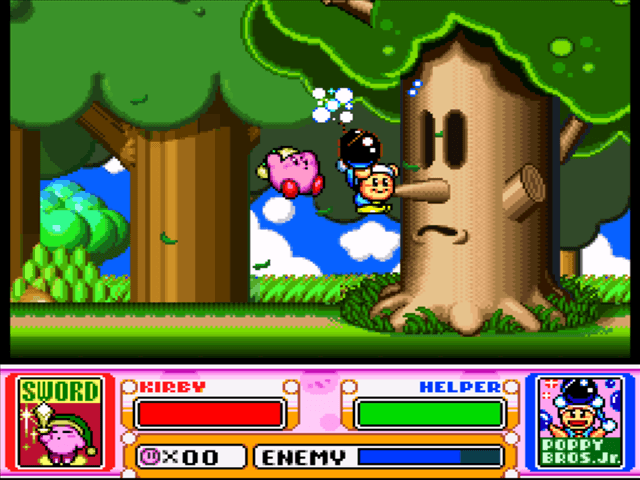 95. Kirby Super Star
Platform: SNES
Genre: Platformer
Year: 1996
Nominated by: Dustin Spencer
These days, seeing multiple titles bundled in one release is quite common due to the constant flow of compilations for the classics. Kirby Super Star (Kirby's Fun Pak in Europe/Australia) however gave us not only a complete remake of the original Kirby's Dream Land, but also packed in eight other full games that were all new, and introduced mechanics to the series that can still be seen to this day in modern titles starring the beloved pink fluff.
The visuals were some of the best at the time, as the brightly-colored worlds reeked of charm and all of the 2D sprites truly brought out the likes of Waddle Dee, Whispy Woods, Knuckle Joe, DeDeDe, MetaKnight, and of course Kirby, as fully-fledged stars, all ready to give the then-dwindling system a last hoorah worth celebrating.
Go play any of the titles included on this cart and you will quickly discover one of the best video game soundtracks of all time, and some of the most polished platforming ever produced, that hasn't aged a day. Kirby has made a career out of reinventions, but Super Star is Kirby at his all-time, enemy-swallowing finest, and there is no denying that this timeless classic is one that any fan of gaming should play before they die.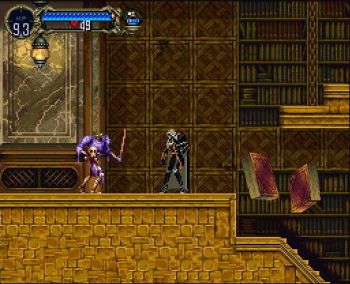 96. Castlevania Symphony of the Night
Platform: Playstation
Genre: Action RPG
Year: 1997
Nominated by: Jahanzeb Khan
This game was major turning point for the Castlevania franchise, introducing a Metroid style of game structure and combining it with the aesthetics and mechanics of Castlevania to create a whole new gaming experience. It was essentially the modernisation of Castlevania and it brought in a whole new legion of fans. It would coin the term 'Metroidvania' and change the direction and focus of the franchise. Since then, almost all 2D Castlevania games have followed this revamped formula, with each game introducing unique RPG-style customisation mechanics and systems. A fantastic adventure that can be easily be found on Xbox Live Arcade.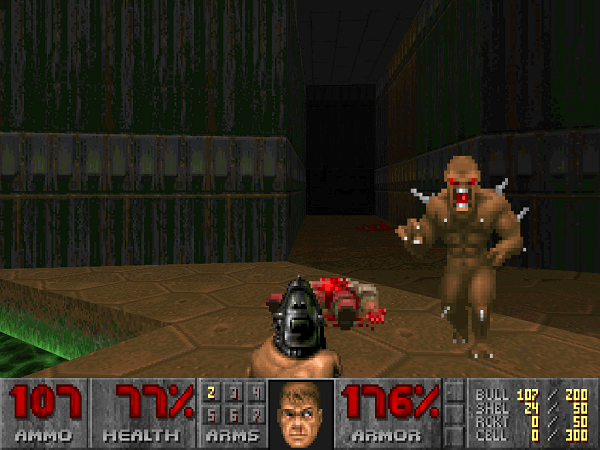 97. DOOM
Platform: PC
Genre: FPS
Year: 1993
Nominated by: Mike Irving
Doom may not have been the first first-person shooter, but it was arguably the first great one. Developed by id Software, Doom expanded on the foundations laid by the company's previous FPS, Wolfenstein 3D, and launched the genre into immense popularity that continues today.
The game casts players as the sole survivor of a catastrophe on a research station on Mars, which unleashed the worst demons Hell had to offer. Now one (pretty badass) guy is all that stands between Hell and Earth.
Understandably, Doom was terrifying for its time. I remember it as the first game that I refused to play after dark.
Its achievements may seem basic by today's standards, but in the early 90s Doom was a technological marvel. It implemented floors at multiple heights within the same environment, textured every surface instead of using flat colours like its predecessor, and utilized variances in lighting to create atmosphere and guide the player.
It was also one of the first video games to receive mainstream attention of the moral panic variety. Before beating up hookers in Grand Theft Auto became an issue, Doom's excessive violence and gore, as well as the satanic design influences, concerned parents, religious and political groups. It was even blamed for the Columbine High School massacre, although the links remain questionable.
For better or worse, Doom remains one of the most influential video games ever. Even after almost twenty years, its legacy can still be felt in some form in most of today's shooters. Thanks to Doom, it's hard to imagine a world where shooting dudes isn't a common video game experience.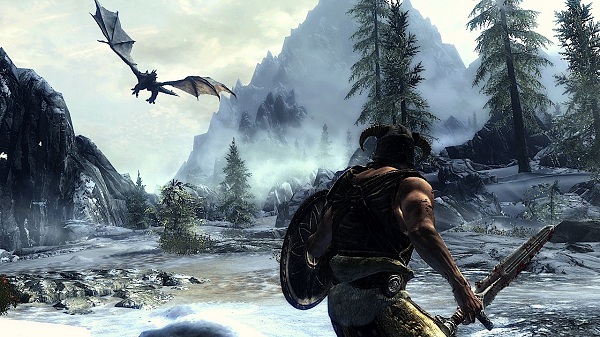 98. The Elder Scrolls V: Skyrim
Platform: PC/PS3/Xbox360
Genre: RPG
Year: 2011
Nominated by: Jed Bradshaw
When Obsidian announced a new game in the Elder Scrolls series, the Internet went ballistic. And now, after countless perfect review scores, memes, videos and playthroughs, Skyrim has a place in the heart of many a gamer.  A fantastic world full of quests, memorable characters, and FREAKIN' DRAGONS, Skyrim is the pinnacle of RPG perfection.  The best part of the game: you can't ever fully complete it. Also, books. So many books.
99. Contra
Platform: Arcade/NES
Genre: Brawler
Year: 1987/88
Nominated by: Dustin Spencer
Up-Up-Down-Down-Left-Right-Left-Right-B-A-Start.
I really shouldn't have to introduce the game that brought running and gunning action to consoles, but some may need a quick reminder of why Contra is one of the most influential titles to ever hit the video game scene. Contra was challenging, but not necessarily in a bad way. This was the type of challenge that you would spend a weekend on, just trying to make it from stage to stage as your fingers began to cramp and your sugar supply wasted away.  Every bullet mattered, and there was nothing more exciting than dodging an insane amount of enemies as you tried to protect that last bit of HP remaining.
Since first releasing for the NES in 1988 (Arcades in '87), we have seen sequels and a mass amount of clones, but honestly, nothing can beat the original experience. Contra could have been just another 8-bit title when it was birthed years ago, but thanks to a hardcore following of fans who have spent hours creating speedrun videos, remixed soundtracks, and other tributes, Contra's legacy lives on for future generations.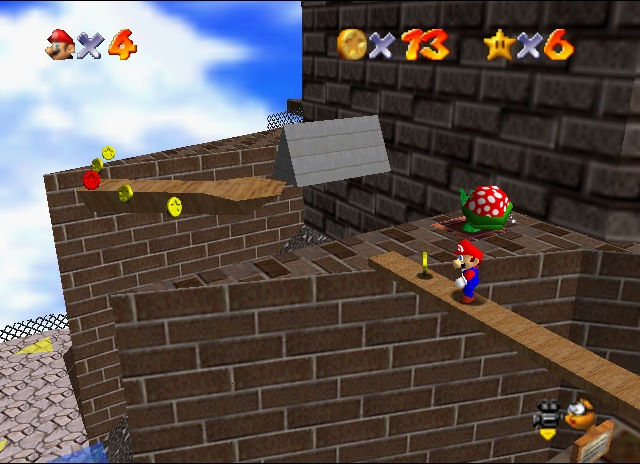 100. Super Mario 64
Platform: Nintendo 64
Genre: Platformer
Year: 1996
Nominated by: Mike Irving
The industry's transition to 3D with the Nintendo 64 and PlayStation era had an effect not unlike an asteroid: it created an extinction event, through which only the strongest franchises could survive.
In this strange new world, some franchises thrived, some faltered, some died off and some new ones emerged. But if anyone could successfully adapt a classic formula to incorporate the mind-bending properties of an extra dimension, it would be Nintendo.
Mario's first venture into 3D achieved the impossible: it was faithful to the series, while adapting the core gameplay into something truly revolutionary. Instead of running left to right, jumping your way to a set goal, the developers made use of the free-roaming environments to encourage exploration. Shiggy Miyamoto always touted exploration as a core principle of Mario games, but it was somewhat hard to achieve in a strictly linear, 2D format. Now, the goal wasn't a specific location, but stars that could be obtained by performing specific tasks within the environment: you might have to help a character, defeat a tough enemy or use your climbing and jumping prowess to reach a difficult area. Exploration was the whole game, and it was beautiful.
Super Mario 64 nailed 3D platforming so well it is often cited as creating a brand new genre. It was a damn good example of how it should be done, and was subsequently aped by every other developer trying to bring their platformer franchises into the third dimension.
Hardly a list of Best or Most Influential Games goes by without an appearance by Super Mario 64, and it isn't hard to see why. Few games are responsible for so many innovations at once. Critically, it was unanimously praised, including the honour of being the first game to receive a perfect score in Edge magazine, and deserved the accolade of #1 best selling game on the Nintendo 64.