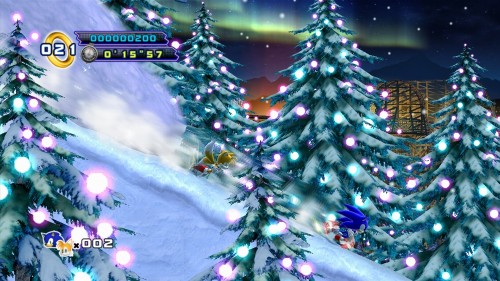 News regarding the latest instalment of the Sonic the Hedgehog 4 has revealed some very interesting information to the Sonic fanbase. Retro fans of Sonic 2 and Sonic 3 in particular will find reason to be excited about Sonic 4: Episode 2. Some of the revelations included those of screenshots, the return of the classic 2.5D Sonic 2 special stage and the announcement of a brand-new physics engine to replace the unfortunately questionable model from Episode 1. A recent update of the product page on the Xbox live marketplace has revealed to the world that not only will players be able to play as Sonic's ever reliable sidekick Tails, but players will have the ability to play CO-OPERATIVELY in either Local or Online multiplayer! This is a feature not seen in use since 'Shadow the Hedgehog', in which a second player is able to take control of the sidekick character with the simple addition of a second controller. Only a few select Sonic games have implemented this feature in the past, and, as a hardcore Sonic devotee, it's good to see the return of this feature.
While it was quickly removed from the marketplace, many fans were quick to copy it down into the information consuming miasma that is the internet. The leaked announcement from the marketplace can be found below, with a number of the afore mentioned screenshots.
The Sonic 4 Saga continues as Sonic reunites with Tails for all new collaborative play! Following the events of Episode I, Metal Sonic has returned to form a formidable alliance with Dr. Eggman! To face this new threat, Sonic will have to call upon an old friend to help him save the day! Joined by Tails, utilise ingenious combination moves and race across four brand new Zones, in order to put an end to their evil plans! Play alone, or with a friend locally (and online), in an evolution of Sonic 2′s collaborative gameplay! Unleash Sonic and Tails' devastating joint attacks and combination moves to fight the united force of Metal Sonic and Dr. Eggman. Episode II features an all new game engine, bringing you updated physics and an original graphical style as you race through four unique Zones and a new Special Stage.