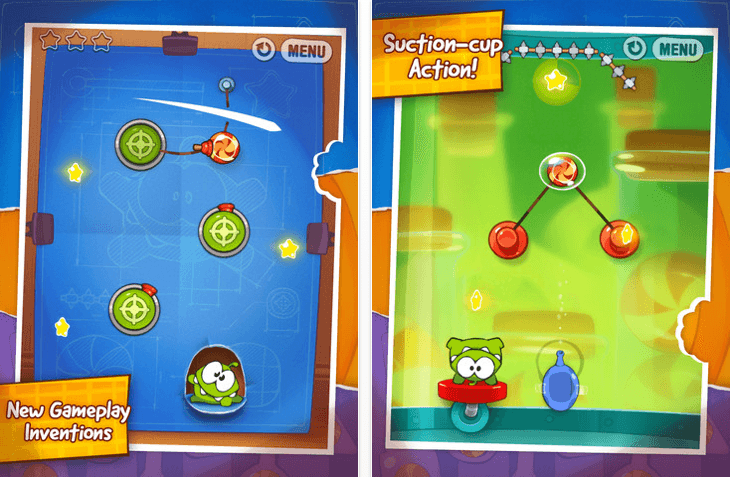 Here we are again, MasterAbbott is back for this week's iOS Game Suggestions. If you missed out on last week's suggestions, click on the links below and check what cool games you should be picking up for your iOS along with the introduction and disclaimer on how my suggestions work, as I'm not going through the same old intro every week. (suggestions 1 has the disclaimer)
MasterAbbott's iOS Game Suggestions
What I've also introduced is video game play footage (if it's possible) on some of the iOS games I've suggested, you can check this out at the bottom of the article. Currently video game play footage for this week's suggestions we have RobotGladi8tor & AntVenture, Cut The Rope Experiments and Starfighter Overkill check back in a few days there will be some more added. For now, if you jump into week 2 suggestions there are a few videos to check out.
Once again it's been a great week on iTunes, so many amazing games were released, this week I've suggested well over my normal amount with a total of 15 great quality titles. As always for this week's suggestions are all new titles that you should also take a look at to spend your hard earned iTunes cash / time on.
This week I've focused an both 99c games and titles over 99c as there were some awesome and unique games released. These titles are all well worth taking a look at. Now lets get down to business shall we.
For The Cheapskates – FREE GAMES
 
Dino Puzzle For Toddlers & Kids – Price : FREE – Publisher –

TapDev-Studio.

(Are you looking for an appealing app to improve your 0-8 year old child's concentration, cognitive abilities and memory?
Then stop looking because Dino Puzzle is exactly the right decision for you! Dino Puzzle features, normal puzzles in three difficulty settings, set puzzles and solo Dino Puzzles in various difficulty settings.) runs on both iPhone & iPad.

GET IT NOW FOR FREE

 
Big Win Soccer – Price : FREE – Publisher –

Hothead Games Inc.

(Welcome to world class football fun with Big Win Soccer! No matter what you call the "beautiful game", Big Win Soccer is the game for everyone. CREATE your own unique dream team, COMPETE against opponents from around the world, WATCH your team battle it out on the pitch, BOOST your player's passing, shooting, dribbling and other skills and get ready to hoist the Daily Trophy for the ultimate BIG WIN!) runs on both iPhone & iPad.

GET IT NOW FOR FREE

 
Monooly Hotels – Price : FREE – Publisher –

EA Mobile

(ARE YOU A HOTEL MOGUL? Buy, build and manage MONOPOLY's iconic hotels in this all-new MONOPOLY experience! Check-in to MONOPOLY Hotels – for FREE! LET THE MONEY ROLL IN – ONE ROOM AT a time, as you : Take control of MONOPOLY's luxurious 5-star hotels, from Mediterranean to Boardwalk. Upgrade hotel rooms and attract VIP guests, like MR. POTATO HEAD and other HASBRO characters. Plus much much more.) runs on both iPhone & iPad.

GET IT NOW FOR FREE
For The Bargain Hunters – 99c Games  
MASTERABBOTT's 99c Game Pick Of The Week

League Of Evil 2 – Price : $0.99 *limited time only * – Publisher – Ravenous Games (League of Evil 2 is the sequel for the award winning original, League of Evil, which came out February 3, 2011. League of Evil quickly became critically acclaimed due to the incredibly responsive touch screen controls. It has been featured on the App Store numerous times and even became award winning taking home! ) – runs on both iPhone & iPad. BUY NOW

AntVenture – Price : $0.99 – Publisher –

To Design.

(It's going to take some careful planning to fish the ants out of this mess! Catch the 3 ants by clicking on objects in the room. Your cursor will change when something is usable: cogwheels mean it's usable and a question mark means you have to solve something else to be able to use it!) runs on both iPhone & iPad.

BUY NOW
For The Millionaires – All games over $0.99
 

MASTERABBOTT'S Over 99c PICK OF THE WEEK

Cut The Rope: Experiment HD – Price : $1.99 iPhone version also available for 99c (Publisher – ZeptopLab UK Limited (What on earth is Om Nom?! That's what millions of fans of the widely acclaimed game, Cut the Rope, have been asking about the cute little monster who eats candy like its his job!
That same question has a mad (but not bad) scientist studying the little creature that mysteriously arrived outside his house. Intrigued by Om Nom's insatiable appetite for sweets, the Professor puts him through a series of experiments in this all-new game, a follow-up to one of the most original and fun-filled games on the App Store.) – runs on iPad. BUY NOW

Room Break: Escape Now – Price : $1.99 – Publisher – 

Gameday Inc.

 ( Room Break is an adventure game about escaping. The purpose of this game is simple.
Users will be detained to certain places and situations and they need to open the door of each room and escape. Players need to figure out how to open the doors.
Maybe, there are some unexpected tricks hidden.. But, it is not difficult at all.
If you pay attention a little bit more, you will be able to find out all the hints that lead you to a successful break-out.) runs on iPhone & iPad.

BUY NOW

Quake Escape HD – Price : $1.99 – Publisher –

V&D Capital

(Will the Mayan predictions in 2012 come true? Some say that this is the end of the world while others foresee it as being only the start to worldly disasters! Quake Escape is set during the heart of these changes, where earthquakes run rampant, aftershocks increase in volume each day, and tsunamis take form worldwide.) runs on iPad.

BUY NOW

 
Beat Sneak Bandit – Price : $2.99 – Publisher – 

Simogo

 (When all the clocks in the world are stolen by Duke Clockface and the world is in chaos, it'll be up to the Beat Sneak Bandit to steal them back! Rhythmadelic controls: Everything in this game moves rhythmically, just like the simple controls: Tap to the beat to sneak!
Stealthalicious gameplay: Sneak past patrolling guards, security lights, trapdoors and all the other freaky stuff and contraptions the creepy Duke's got in store for you!) runs on iPhone & iPad.

BUY NOW

 
Dracula The Last Sanctuary HD – Price : $4.49 – Publisher –

Microids

(Jonathan Harker returns in triumph from Transylvania after he saves Mina. But he can't rest for long–Dracula has followed him up to London. A Point & Click adventure using 360° vision technology in every scene. The game is not a copycat portage of the PC version but an adaptation for touch screens and mobile platforms.) runs on both iPhone and iPad.

BUY NOW

 
Starfighter Overkill – Price : $1.99 – Publisher – 

Rapid Turtle Games

 (Starfighter Overkill is an intense space shoot-em-up with unlimited waves of non-stop adrenaline pumping action.Blast away waves of alien spaceships, star panzers, destroyers and space fighters before facing the big bosses. Collect power-ups to upgrade your firepower. Use special weapons to quickly annihilate hordes of enemies. Boost your adrenaline by killing enemies and use the powerful air strike to blitz the enemy in a torrent of destruction.) runs on iPhone & iPad.

BUY NOW

 
RobotGladi8tor – Price : $1.99 – Publisher – 

Speedbump Studios

 (Abandoned on a derelict space station for the amusement of viewers across the galaxy, you must battle the increasingly ferocious robots that occupy its labyrinthine depths, all while persuing revenge against the sadistic media mogul who has orchestrated your fate.  RobotGladi8tor brings swipe-fighting to a new level, incorporating intense firt person battles, fully open-world exploration, challenging obstacles and a compelling story of revenge.) runs on iPhone & iPad.

BUY NOW

 
Pizza vs. Skeletons – Price : $2.99 – Publisher – 

Riverman Media

 ( You're BIG, You're Tasty.  You're kicking some brittle undead A$$.  Pizza vs. Skeletons is an epic, ridiculous, 2D platform game designed from the ground up for iOS. You control a 25 foot tall Pizza as it smashes through a horde of undead rivals on land, sea and in outer space.) runs on both iPhone and iPad.

BUY NOW

 
Mailmen – Price : $1.99 – Publisher –

Ayopa Games

 (A mailman's task is meant to be simple – pick up and deliver the mail, then return to base. In the leafy suburbs of Greenville, that job is tougher than expected. An array of pesky guard dogs, mind-bending puzzles and ingenious villains are trying to defeat our heroic Mailmen. Controlling them, you'll need to use strategy, teamwork and unique special abilities to stay safe from angry canines!) runs on iPad.

BUY NOW

Jet Heroes XD – Price : $3.99 – Publisher – 

Noumena

(Enjoy scrolling shooter games? Then this is a must have! See if you got what it takes to become the Ace in the skies! Take on flying missions and gain experience. More missions won, more fighters to choose from! You will need to muster all your dog fighting experiences to beat the Big Boss in the sky!!) runs on iPhone and iPad.

BUY NOW
There you have it folks, these games should keep you busy for quite some time. I'll be back next week for another dose of iOS goodness, in the meantime if anyone would also like to suggest their own suggestions, please feel free to share them in the comments section below, or join the discussion in the forums. Check out the link below :
Remember kids, Play Hard Or Don't Play At All!
Game Play Videos
Cut The Rope Experiments
[pro-player width='530′ height='253′ type='video']http://www.youtube.com/watch?v=NPPfBTcej7o[/pro-player]
RobotGladi8tor
[pro-player width='530′ height='253′ type='video']http://www.youtube.com/watch?v=-jqhMtFu8kQ[/pro-player]
AntVenture
[pro-player width='530′ height='253′ type='video']http://www.youtube.com/watch?v=CuaqbI4Fv8o[/pro-player]
Starfighter Overkill
[pro-player width='530′ height='253′ type='video']http://www.youtube.com/watch?v=OATcVlQ44EY[/pro-player]