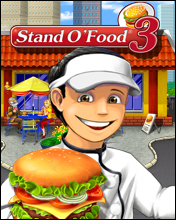 You guys ready for some food management hecticness? Well, good news for you, G5 Entertainment has announced that Stand O' Food 3 will be released on Kindle Fire on January 26, 2012. The latest in a range of hugely addictive, time management games, this one is sure to be just as addictive, and just as fun, as its predecessors.
In Stand O' Food 3 Ronnie the Chef offers Tinseltown his services, combining forces with Nikki and Mr. Clarence to stop the dastardly Mr Torg's revenge plans. Help Ronnie open up to 25 restaurants, serving clients fast and healthy food, and keeping the good folks of Tinseltown feeling well fed.
There are five settings to choose from, with over 75 levels and 12 bonus levels to unlock over 33 achievements and that shiny, shiny expert status sitting there, waiting for you to grab it.
Check out the trailer below! For more info on the game before its release head on over to their site.