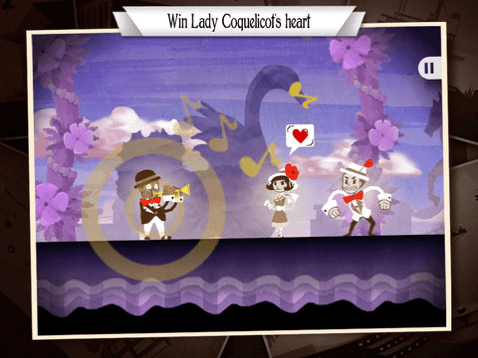 Yes MasterAbbott is back for this week's iOS Game Suggestions. If you missed out on last week's suggestions, click on the link below and check what cool games you should be picking up for your iOS along with the introduction and disclaimer on how my suggestions work, as I'm not going through the same old intro every week. (suggestions 1 has the disclaimer)
MasterAbbott's iOS Game Suggestions
What i've also introduced is video game play footage on some of the iOS games I've suggested, you can check this out at the bottom of the article.  Currently there is video game play footage for this week's suggestions but if you check back in a few days there will be some added.  For now, if you jump into week 2 suggestions there are a few videos to check out.
It's been an average week this week in the iOS department. Once again for this week's suggestions I've added a handful of old games into the mix as some of these games need to be given a mention. Of course the focus is still on the newer titles that you should be spending your hard earned iTunes cash / time on. This week I focus a little more on the free / freemium titles, as  I want to ensure you can all pick up and try as many suggestions as possible.  The payed titles are also well worth taking a look at if you can afford it.  Now lets get down to business shall we.
For The Cheapskates – FREE GAMES
Crazy Escape– Price : FREE – Publisher –

Bulkypix

( The poor, innocent, defenceless sheep have been sheepnapped by the greed and of course very hungry wolves! With the help of Cutlet and Mismash, their trusty 4×4 Jeep and your finger you can save the day in this 90 level puzzle action game full of heart racing excitement.) runs on both iPhone & iPad.

GET IT NOW FOR FREE

Order Up!! To Go – Price : FREE – Publisher –

Chillingo.

( Order Up!! To Go is a delicious blend of frantic kitchen cooking and restaurant empire building. Chop, roll, slice, and dice your way to culinary stardom. Optimized specially for iOS, featuring perfect controls and comic kitchen action, this is one time management game that will keep you busy for hours.) runs on both iPhone & iPad.

GET IT NOW FOR FREE

Angry Drums HD – Price : FREE – Publisher –

Sowanna

( Angry Drums HD is rhythm action action game that looks looks, plays and feels like the very popular arcade/ds game : Taiko No Tatsujin (Taiko Drum Master) If you're a fan of J-POP music and love your rythm games, Angry Drums is just the game for you. ) runs on iPad only.

GET IT NOW FOR FREE

Stardom: The-A-List – Price : FREE – Publisher –

Glu Games Inc

( Can you reach the A-List? Schmooze, flirt, lie, fight – and maybe even work – your way to STARDOM! From getting off the bus as a nobody to accepting an award as an international superstar, get rich and famous by starring in movies and TV shows and winning over fans. The A-List is free to play. Players can purchase additional Cash and Stars (the in-game currencies) for real money, or earn currency through special offers.) runs on iPhone & iPad.

GET IT NOW FOR FREE

Stardom: The-A-List – Price : FREE – Publisher –

Birmingham City University

 ( 'Revenge of the Ninja' is a 2D action platform game which uses intuitive touch screen controls. To progress through the game the player must master a combination of skills including combat and precision platforming.) runs on iPad only.

GET IT NOW FOR FREE

 
Gun Strike – Price : FREE (in-app purchase available for $0.99)- Publisher –

Paladin Entertainment.

  (Gun Strike is FPS with a twist: You don't get to move around, you stay in one place and the enemies come to you, similar to the games like operation wolf and time crisis. With 7 theme maps and a total of 70 levels and approx 17 different weapons to choose from Gun Strike is certainly jam packed with hours of gameplay.) runs on iPhone & iPad.

GET IT NOW FOR FREE

 
FireMon – Price : FREE – Publisher –

GPAX Co.

(The city is on fire! The fire started in the city because of Firemon are running around like crazy. You are the only one that can save the city from this disaster!! Eliminate this little Firemons with your water cannon and save the day, Firemon play similar to Pang.) runs on iPhone & iPad.

GET IT NOW FOR FREE
For The Bargain Hunters – 99c Games
Bruce Lee Dragon Warrior– Price : $0.99 – Publisher –

Indiagames Ltd.

(A masterpiece of the 3D martial arts genre, Bruce Lee was developed using motion capture technology and features players fighting in historical locations around the world in an attempt to become the Master Of Martial Arts and Honor Bruce Lee's Legend.  Do you have what it takes to be the Dragon Warrior?) – runs on both iPhone & iPad.

BUY NOW

In Time The Game – Price : $0.99 – Publisher –

Fox Mobile Entertainment.

(IN TIME is a high-adrenaline, arcade-style handheld game experience set in a near-future world where TIME is a finite commodity that can be earned or taken away. Score points by sprinting, jumping and dodging waves of obstacles & assailants across often-hostile city streets on the way to your destination before your time runs out. ) – runs on both iPhone & iPad.

BUY NOW

 
Cyberpunk Shooting Training– Price : $0.99 – Publisher –

Digital Jokers Mobile.

(Powered by the Unity engine, Play as Gibson, the elite mercenary of Cyberpunk as he prepares himself for his hardest mission ever. Take your first step in The shooting training, and see if you have what it takes to be the ulitmate mercenary.  This game plays very similar to Time Crisis) – runs on both iPhone & iPad.

BUY NOW
For The Millionaires – All games over $0.99
 

MASTERABBOTT'S PICK OF THE WEEK

Jazz: Trumps Journey – Price : $2.99 (Publisher – BulkyPix (Play as Trump a Jazzman as you immerse youself in the memories and dreams as a young jazz musician in love with lovely Lady Poppy on a quest to form a group of muscians and battle the injustice in the New Orleans. Use Trumps Trumpet to stop time and fight bosses, moving platforms, detectives, spikes and a whole lot of other obstacles.) – runs on both iPhone and iPad. BUY NOW

ASH II: Shadows (GOLD Edition) – Price : $4.99 – Publisher – 

Konami

( A heart pounding RPG classic – The world of Aghaus is once again in peril, and the heroes of old must heed the call to embark on another dangerous adventure. Join Nicholas and Damien as they pursue new quests, discover ancient mysteries, and find unexpected new allies. With a brilliantly original tale to experience and stunning HD hand-drawn graphics, Ash II: Shadows will once again capture your imagination and take it to new heights.) runs on both iPhone and iPad.

BUY NOW
There you have it folks, these games should keep you busy for quite some time. I'll be back next week for another dose of iOS goodness, in the meantime if anyone would also like to suggest their own suggestions, please feel free to share them in the comments section below, or joing the dicsussion in the forums.  Check out the link below :
Remember kids, Play Hard Or Don't Play At All!
–