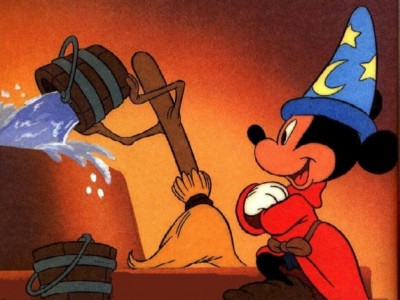 V-Jump has revealed a new world for the upcoming Kingdom Hearts 3D: Dream Drop Distance. The world will be titled 'Symphony of Sorcery' and will be based upon the classic Disney film Fantasia.
Sora and Riku will travel to the Fantasia world and meet Sorcerer Mickey. As you can imagine there will probably be plenty of broomsticks in this world. So if your a fan of broomsticks, your in luck… I guess? At least the Fantasia world will be visually interesting.
What do you think of the latest Kingdom Hearts 3D world revealed? Is it just as bizarre a choice as Tron Legacy? Let us know in the shoutbox and comments section.