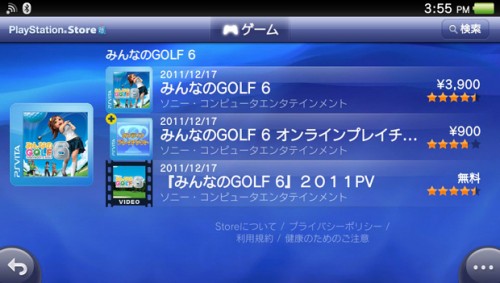 The Online Pass might be heading to the Playstation Vita for Sony's first party games. Destructoid have revealed that Hot Shots Golf 6, which will be renamed as Everybody's Golf for the European and PAL territories and Hot Shots Golf: World Invitational in North America, does in fact have something called "Online Play Ticket." This online pass, which cost 900 yen for players who purchase the game used, will be required for online play. A one time use code will be included with retail versions of the game.
It seems that Sony is further fighting the used market, this time taking the war on the portable front. I have to disagree with this tactic, however. Taking away the player's ability to play on an online network that is free to play on in the first place seems so draconian and unfriendly to the public. Although I do not like the fact that used game purchases do not reward developers for their efforts, taking away online play is not the answer. Why not offer exclusive courses or characters for free for new owners? That will convince people to buy new copies rather than used.
Destructoid did note that digital copies will also include the "Online Play Ticket" in its price, so the digital version is still the cheaper version to purchase.