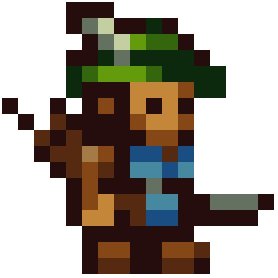 People keeping a close eye on sites like IndieDB will no doubt have come across King Arthur's Gold, a retro platformer with a menagerie of game modes and features that already boasts a considerable following among the indie community. If reputations are anything to go on, then KAG is set to become something really rather incredible, with a development team that boasts the talents of designer and coder Michal 'MM' Marcinkowski (creator of cult classic 2d action shooter Soldat), brilliant pixel artist Max 'Geti' Cahill of 1BarDesign, and composer David Pencil of Penny Arcade. Having watched the game grow for some time now, I decided to get in touch with these fine gentlemen. Here's what they had to tell me;
Capsule: King Arthur's Gold really is a jack of all trades; strategy, castle building, zombies, multiplayer combat, real-time destruction, the whole shebang! How exactly do you go about creating a game with quite such abundant and varied appeal?
Michal Marcinkowski: Probably the ghost of King Arthur or the magic of Merlin is guiding us… If that's not the case I think, well, I've been making games for years now so I know how to build each part. The trick is to make them work all together. We do that by making one part at a time, releasing it to the public, getting feedback from the fans and tweaking it. If it's perfect we move on to the next thing.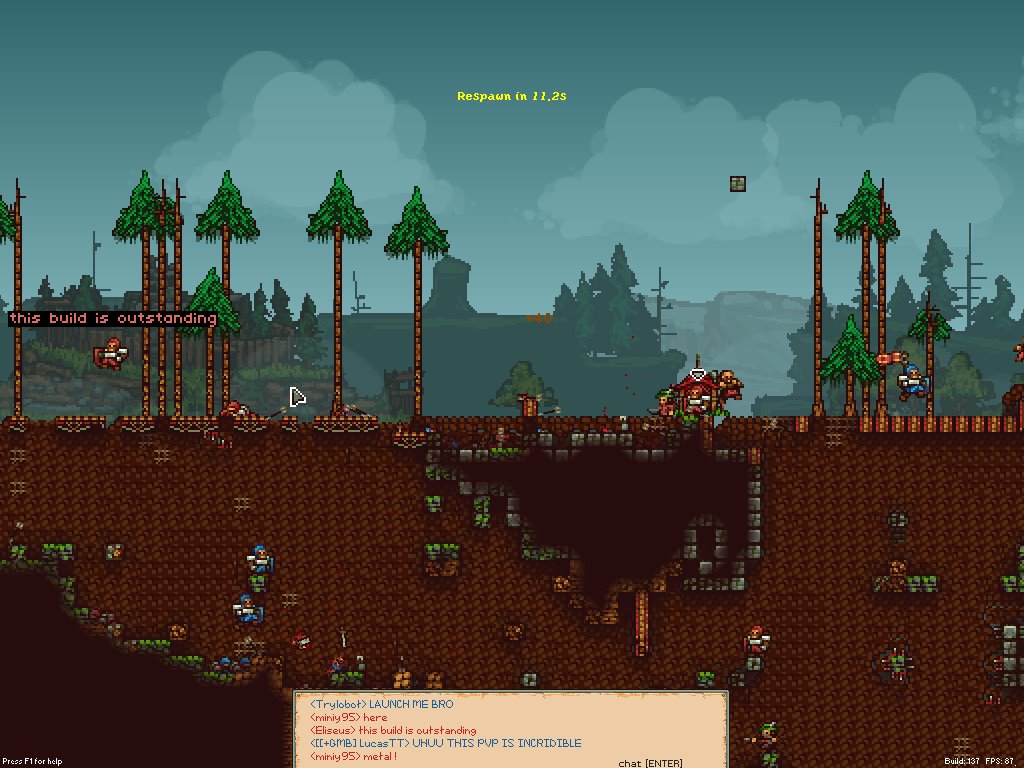 Capsule: Another one of the game's big selling points is the wonderful pixel art, but when low-fi graphics are common in so many indie titles, what do you think sets KAG apart visually?
Max Cahill:  The art in King Arthur's Gold is not retro or simplified – rather than the solid colour symbols of the arcade games of yester-decade I've leant towards getting as much meaningful detail into each and every asset in the game while trying ensure the art is still as clear as possible. Hopefully that's paying off and giving KAG a unique vibe.
Michal Marcinkowski: Right, I wouldn't call it retro but 2x scaled beautiful pixel art.
Capsule: As you yourselves admit, the game is of rather convoluted inspiration, drawing on elements from Soldat, Minecraft, Dungeon Keeper and Ace of Spades to name a few, but if you had to point to a single game and say "that, that is what started it all", where would you point?
Michal Marcinkowski: Well after playing Ace of Spades I said to myself "I want to make a game LIKE THAT". I know it's two different games now but I really got inspired by the building + fighting aspect.
Capsule: The game is still in relatively early development, and there are many features (such as the aforementioned zombies) still to appear. What, if anything, can you reveal you have planned for future versions?
Michal Marcinkowski: It's not just zombies. It's a little gamemode that will allow players to make their own stories in the game like: "how we built a castle and survived for 10 days" or "how we found the zombie portal and destroyed it with Excalibur". The thing I am drawing here from the King Arthur's legends is that the final game will be a story/legend generator. Each game will be unique and a different experience. After the zombies mode there will come a full Adventure mode that will have everything we made all in one world for the players to explore. So there will be war between teams, zombies, sieges, castles, secrets, underground dungeons, treasures and so on…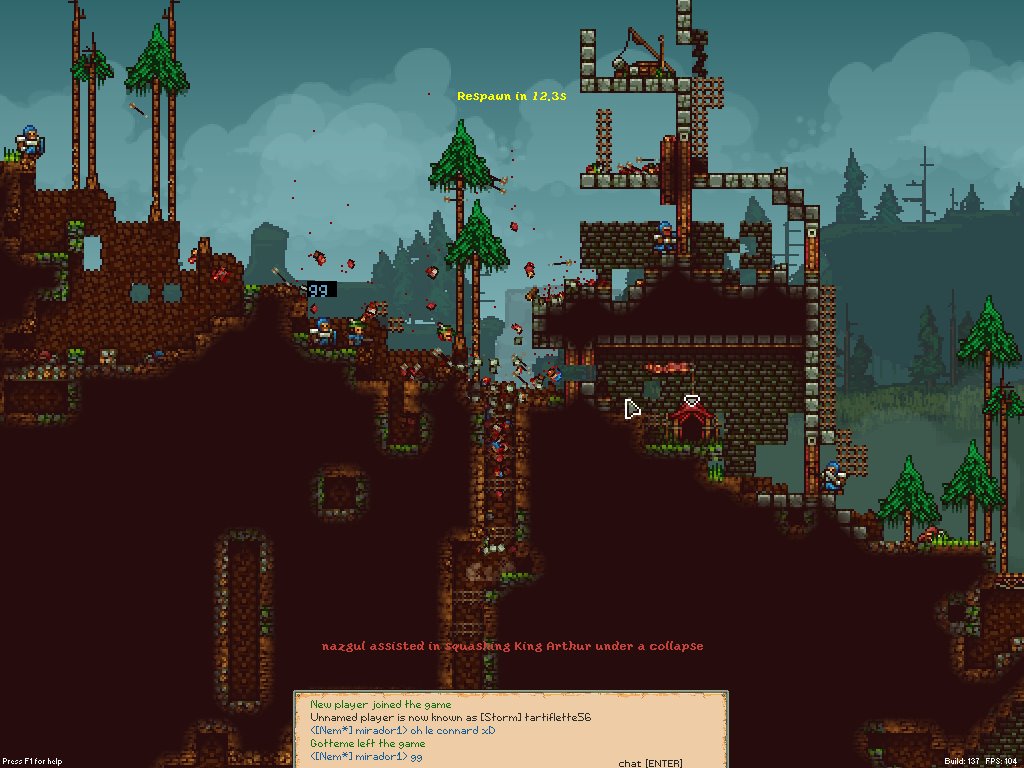 Capsule: You guys are also supporting users on PC, Linux and Mac, and this is becoming an ever more popular strategy, particularly amongst indie developers. For you personally, what are some of the challenges and benefits of cross-platform development?
Michal Marcinkowski: I want everyone to play KAG no matter what hardware they have. The biggest challenge is to make all 3 versions work exactly the same. There are always some different ways of handling little things on the different OS's that are annoying. Like what happens when the mouse gets out of the game window. Every OS has to be thoroughly tested. That is a challenge too. And finally deployment of the game installers and patches. Every new version is not just a single zip uploaded to a server, it's 3 zips + 3 patch updates.
The benefits are obvious however. I estimate Mac players are about 15% and Linux 5% of all players. These numbers will certainly grow. I want EVERYONE to be able to play KAG, that is my main motivation for doing this.
Capsule: What are each of your favourite classes in the game? 😉
Michal Marcinkowski: Builder. This is an aspect of the game that cannot be found anywhere else. No other computer game has achieved this kind of control over the battlefield from the perspective of a single unit. Playing as builder feels like you're controlling a huge force, for example one well placed ladder will let you flood 20 knights from your team over the wall or blocking a strategic entrance will allow your team to move the battle quickly to the other side. Changing from defense to offense and vice versa happens all the time in KAG and builders are mostly responsible for that.
Max Cahill: Definitely the builder, I enjoy feeling like I've got some control over the battle. That and it means I can contribute something to my team even with the unholy latency from Australia to EU and US servers!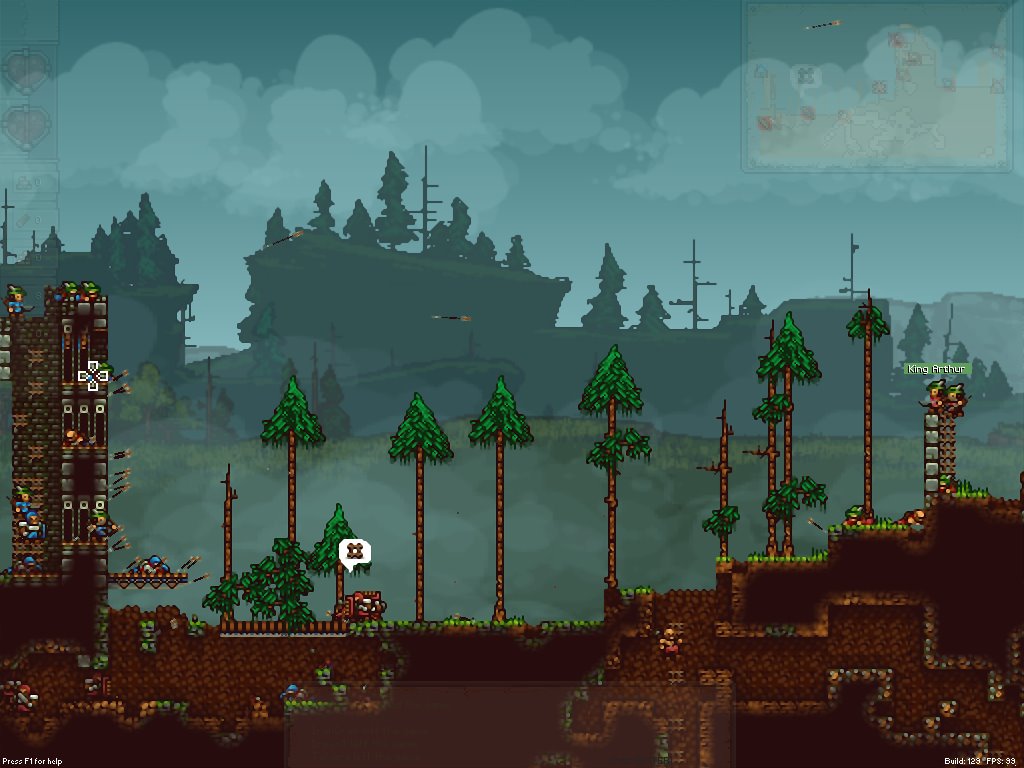 Capsule: In this stage in development, and particularly with the wide range of features you've already included and the open-ness of the project, there are many places that KAG could go from here. How exactly do you envision the final version of the game?
Michal Marcinkowski: The final version of the game will be 3 things;
1. Adventure
2. War
3. Rapid matches
1) Adventure will be a multiplayer story where you can do anything you want. Mostly build an empire and explore the world. So you will be able to build a gigantic castle with multiple rooms that will allow the castle to function on its own. The castle and its habitants will need food, armor, weapons and machines in order to survive. If that is done you will be able to explore the world. Find resources, treasures, dungeons or a team of other players that have built a castle. You can also wage war on them.
2) War is similar to Adventure but with war already declared between two teams. So it will have all the castle systems and war machines. but the goal won't be exploration and survival. It will be defeating the opposite team.
3) Rapid matches is what you can see currently in the alpha: Capture the flag and Team deathmatch. These are quick matches that allow to have some fun in under an hour. The castle building things and siege machines are limited. But that way its easy to play and most importantly we can treat this as a demo for the game. Rapid matches will always be available in the FREE version of KAG.
We at Capsule Computers would like to thank Michal and Max for taking the time to answer our questions, and we wish them all the very best with this project. You can track the development of King Arthur's Gold on IndieDB, Facebook, Twitter, YouTube and the game's official website.
[pro-player width='530′ height='253′ type='video']http://www.youtube.com/watch?v=Z5xakGLn2yI&feature=youtu.be[/pro-player]