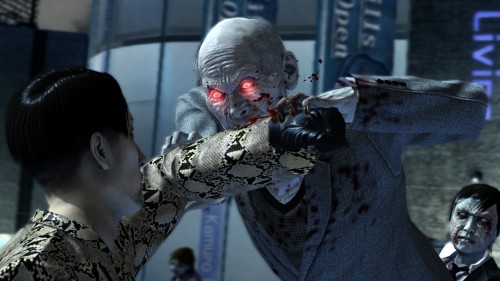 Yakuza: Dead Souls is quite a unique take on the whole zombie genre as a whole, because not only do the zombies invade an entire town rather than a mall, but this time around the zombies have to deal with the even more terrifying yakuza. While Yakzua: Dead Souls is set to be released on March 13th in North America, the 15th in Australia and the 16th in Europe, we have yet to hear about what pre-order bonuses would be available for those who just can't wait to put their money down on this zombie thriller.
Well if you live in the UK and pre-order the title at select retailers will receive the Densetsu DLC pack which includes 8 new unlockable weapons, 14 new weapons for your lovely female friends and 8 new hostess outfits and a whole slew of new items to help the player out against the zombies.
Those who live in France will be able to pre-order the title at Micromania and will receive a special Steelbook Edition that will also come with the aforementioned Densetsu pack and a Tattoo sleve. Germany on the other hand will receive the same exact thing, minus said tattoo sleeve. Those in Spain will simply receive a Limited Edition that includes the Densetsu pack and that is all.
North American pre-orderers will receive the aforementioned Densetsu DLC pack if they pre-order exclusively at Gamestop and they will also end up receiving the "God Bless America" DLC pack. The God Bless America package will feature bonus costumes for each of the main characters and bonus karaoke modes for Majima and Kiryu, a few bonus items for casinos and even new cutscenes. What are you waiting for? Get out there and pre-order this because these bonuses are too big to pass up.