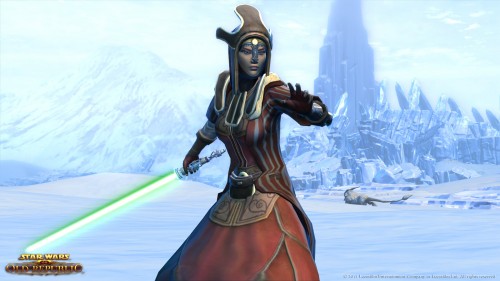 … by Bioware and EA games. This is good news for all players of the MMORPG set in the Star Wars universe because it essentially means that for those of us who have ordered the game online and have to wait for shipping, we are able to use our early access keys to continue playing the game up until the 22nd before our accounts become locked.
Star Wars: The Old Republic launches on the 20th of December and is currently in it's early access phase of the games launch. So this grace period allows players an additional two days of access before requiring a retail code of the game to be input on a players account.
To quote the forums –
This means that everyone who pre-ordered and is in the Early Game Access program has forty-eight hours from launch in which to enter their product registration code, which will be found inside the physical Standard and Collector's Editions of the game; for digital editions of the game from Origin.com, the registration code will have been emailed to you after December 16th and will arrive before December 19th at 11:59PM EST. After December 22nd 12:01AM EST, you will be required to have a valid payment method and a product registration code registered to your account to continue to play. We strongly recommend that you register your product code as soon as you are able to do so (rather than waiting until the last minute) to ensure a seamless entry into the game, a smooth experience on the account website and to collect any special gifts and items you may be entitled to based on the version of the game you purchased.
Hopefully everyone will be having fun with this game when it comes out, I know I will be. For people wanting to purchase this game here in Australia, I recommend obtaining it from Amazon.