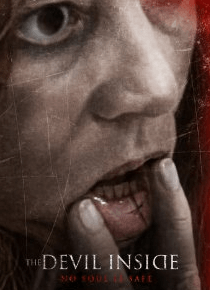 Who doesn't love a good exorcist movie? There's nothing quite like going to see a movie and getting completely freaked out by people's limbs going crazy and, of course, the devil voice coming out of a woman's mouth.
After the original, and classic, The Exorcist, came out in 1973 it just seems like each movie seems to top that one. Whether or not they have succeeded in that respect varies from movie to movie, however I am someone who loves my classics and I still think that nothing quite lives up to the awesome atmosphere that the first movie achieved.
Here we have the latest film to take a running attack at the exorcist genre, The Devil Inside. And, not to speak ahead of time or anything, but it looks pretty damn sweet. The Devil Inside is coming in February 16 for Australia, and is sure to draw the crowds of masochistic people who love to give themselves an adrenaline rush. With the idea of mixing religion and science to bring exorcism into the modern world, the story seems pretty intriguing, with another layer to it that hasn't been explored too much.
Check out the trailer below and let us know if it seems like something you'd be interested in seeing and why!