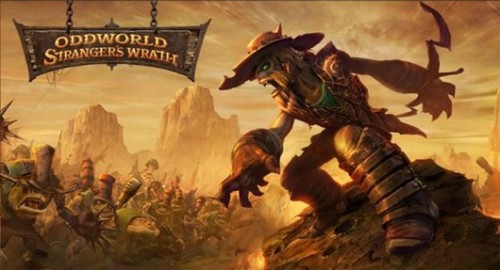 After being announced about a year ago with updates on it's progress and release date few and far between, the final Oddworld installment finally sees its HD remake hit the PSN in North America.  For those who are unaware of what Stranger's Wrath is like, it's a fantastic game with a ccombination of FPS/adventure elements surrounding the story of the titular stranger, a bounty hunter seeking to cure a seemingly fatal ailment.
The game originally came out for Xbox in 2005 so I'm going to assume you know what it's about so I'm not going to go into the finer details of the main game.  What I will talk about, however, is what is new with the HD remake.  The trend of HD remakes seems to be in full force nowadays, for better or worse, but Stranger's Wrath sits at a special spot amongst the rest.  While most other HD remakes are mere upscales to 720/1080p with a few bug fixes, Stranger's Wrath HD has almost been remade from the ground up with completely new textures.  It's one of the few, if only, HD remakes that truly looks like it was made for the current generation and isn't just an upscaled port.
I'll be streaming it for a few hours (at the least) so stick around and see what I mean.
EVENT HAS ENDED. Thank you to all who watched. Stay tuned for more live streaming events in the future.