Page 1 Page 2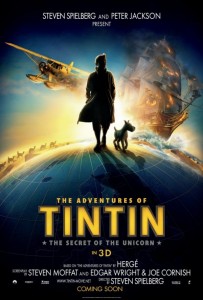 At a conference in New Zealand at the WETA studios earlier in the year, there was a Q&A session with Peter Jackson and Steven Spielberg, to discuss their new film coming out, The Adventures of Tintin: The Secret of the Unicorn. In the session they discussed the process of bringing the internationally loved franchise to the big screen, including the use of live action and animation, choosing a story, writers, and a cast, and bringing it all the life.
Q: It looks like you've tapped into a brave, new, hybrid world of animation and live action. So what has this been like and what have you learned from this?
Steven Spielberg: "Well, I've always learned that the world is not as important as its story. I think that is always going to be the case, no matter what technology or tools we use to frame our stories. It always gets down to the basics of story, plot, narrative and characters. Especially with the Hergé books, our sensitivity in wanting to capture a kind of art form that would be closer to Herge' style and be able to exonerate his characters in a way that if Hergé was with us, he could look up at the screen and say 'yup, that looks like Captain Haddock to me'. So, that was the first choice that Peter and I made in deciding what medium we were going to tell the story in. But with all the excitement of learning about this new art form, it always gets back down to the basics for me. It is always more important to tell a story, so even though this was a risky learning curve for me personally and a very worthwhile learning curve, I actually had a absolute blast on this movie and continue to."
Peter Jackson: "One of the things that I thought was important was that, because neither Steven or I can use computers, with an animated film you always get a little bit daunted as a filmmaker because it feels like a lot of your communication is going to be with computer artists. You're going to have to channel the movie through extra pairs of hands. I mean, you're always doing that to some degree with a normal film anyway. But I just thought that the really interesting thing for us to build here was a pipeline where filmmakers with no real computer skills at all, could step in and actually shoot their movie within this kind of virtual world.
The thing that we were aiming at is that Steven would be able to step onto a set surrounded by these invisible but virtual environments and characters. Andy Serkis, Jamie Bell and Daniel Craig were there in their motion capture suits, so then Steven would lift a virtual camera up and on the screen be able to see Captain Haddock, Tintin and the location of the set. The idea was that Steven could compose the shots like in a live action film. There was a lot of pre-production on the movie because everything had to be built ahead of any shots being done. Even though it's technology, I think we figured out a way to give ourselves an almost freedom as filmmakers. It was like shooting a super eight film."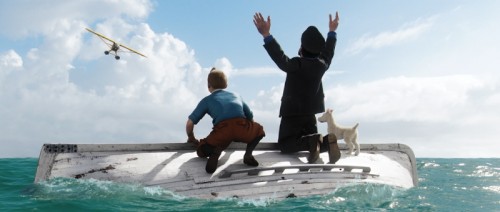 Q: I wanted to get your thoughts on bringing in Edgar Wright and Joe Cornish to write and the decisions that led up to that and why they were the perfect choice for the material?
Steven Spielberg: "Well the first decision that was made really was Peter's decision. Peter had been a very big fan of Doctor Who and said to me on a phone call one day 'why don't we get the Doctor Who writer?' I said 'who's that?' and he said 'Steven Moffat'. So he was the first person we went to and Steven was the person who worked the closest to both Peter and I in delivering the very first draft. Steven Moffat had to go back to his series, he just couldn't do any more work for us so we brought on two other British writers, Joe Cornish and Edgar Wright, to further the process and they did an amazing job."
Peter Jackson: "We wanted to give the movie a European sense. We didn't want to Americanise it any more than Steven's part in the film. It's a European story and it's a European piece of pop culture. So, we wanted that sort of sensibility to be there and we wanted the writers to be Tintin fans. We didn't want to have anyone that we had to explain the DNA of Tintin to. We wanted writers who just knew it and had known it since they were kids. There is a mix of action, adventure, satire, a degree of social comment and there is also a slap stick humour. I mean, it's a strange mix, it is a very particular mix to the way that Hergé wrote his stories. We wanted to somehow try to capture those multi levels and layers in the movie. We didn't want to just hand pick two or three of elements that make up Tintin, we wanted to try and capture the range. So that was the trick."
Page 1 Page 2