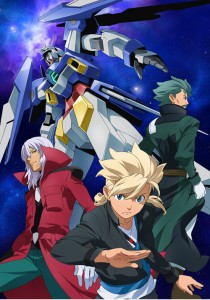 The 2nd Generation of Gundam AGE is fast approaching and in order to promote it, Bandai have released a new poster for the series 2nd Generation.
The poster features the new 2nd Generation model of Mobile Suit Gundam AGE, known as Gundam AGE-2, along side the characters that will take the spotlight in this new generation in the 100 year long story that encompasses Gundam AGE.
Asemu Asuno who is the son of former protagonist Fleet Asuno, takes the forefront of the poster. You can view the new poster for Gundam AGE to the right. Be sure to let us know what you think of Gundam AGE and the new generation of the series Gundam AGE Generation 2, in the shoutbox and comments section.