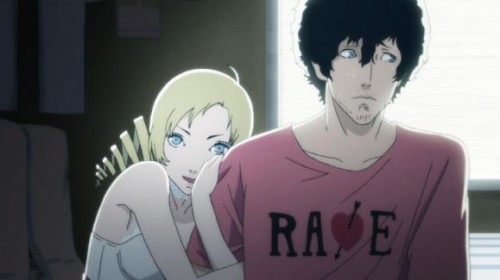 Deep Silver today announced February 10, 2012 as the release date for the action-adventure/puzzle mix Catherine.
This means lonely gamers can rendezvous with either the game's eponymous seductress Catherine or the protagonist Vincent's long-time girlfriend Katherine. And those with girlfriends and wives would do better not to mention you're frolicking with any of these other strange women.
Both the limited "Stray Sheep Edition" (containing the Rave-T-Shirt that Vincent wears in the game, two Stray Sheep bar-themed coasters, a Catherine poster that is exclusively available in this edition, all served in a pizza delivery box from the Stray Sheep Bar as packaging) and the standard edition will be released in Europe on this date. The "Stray Sheep Edition" of Catherine will have a price of £54.99, the standard edition will be available for £49.99.
Catherine will be released in PAL territories for the PlayStation 3 and the Xbox 360. Catherine will feature localised text in French, Italian, German and Spanish.