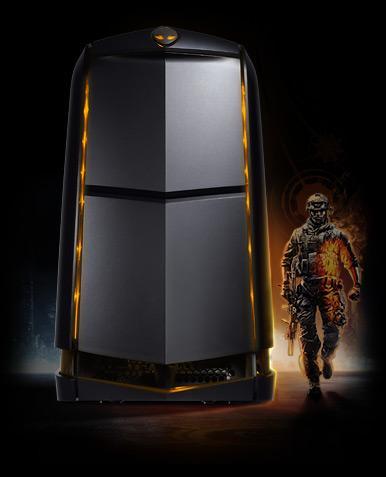 Ever wanted a gaming rig to out-do all other rigs? One that you didn't have to build yourself and worry about deficient warranty if any should happen to go wrong? Look no further than the Dell Alienware Aurora. The Aurora offers the latest technology to deliver the highest quality visuals with the best possible performance.
And let me tell you, this machine makes me (personally) drool in anticipation. Listen to these specifications –
2nd Generation 3000 series Intel Core i7 Six Core Processor Options
New Intel X79 Express Chipset with Unlocked BIOS for Overclocking1
Single and Dual Graphics Options:

1GB GDDR5 AMD Radeon HD 68702
2GB GDDR5 AMD Radeon HD 69502
1.25GB GDDR5 NVIDIA GeForce GTX 560 Ti2
1.5GB GDDR5 NVIDIA GeForce GTX 5802
3GB GDDR5 NVIDIA GeForce GTX 5902
Dual 1GB GDDR5 AMD Radeon HD 6870 – AMD CrossFireX2
Dual 2GB GDDR5 AMD Radeon HD 6950 – AMD CrossFireX2

8GB, 16GB and 32GB Quad Channel 1600MHz DDR3 Memory Options2
Fast 7,200RPM Hard Drive Options up to 2TB; 256GB and 512GB SSD Options4
Single and Dual Optical Drive Options; Including Blu-ray Disc Reader and Burner
High Quality Audio Options:

Internal High-Definition 7.1 Performance Audio with Waves MAXX Audio Software (Standard)
Creative Sound Blaster X-Fi Xtreme Audio (Optional)
Creative Sound Blaster X-Fi Titanium (Optional)

·         System Dimensions: height: 426mm, depth: 645mm, width: 250mm; weight: starting at 20.41kg
That sound you may have heard when this article was posted was the sounds of a man, wailing in despair at that which he does not yet possess. I'm sure that PC enthusiasts can agree that this can be one beastly machine.
The Aurora is built specifically for performance, function and style as well as boasting an amazing water-cooled system; which affords much lower temperatures than the stock heatsinks that it has replaced. The Aurora utilises CrossfireX technology, which gives the machine a terribly powerful graphics capability that is likely able to decimate the capabilities of other machines. This means that you, as the owner of this powerful beast, shall not be gimped by low framerates or horrible looking games because you have to play them on low settings.
The only downside to this machine is it's shockingly high price, but it is to be expected considering the components on offer, which is set to be $3,999AU starting and $4,999NZ starting. Be sure to check out the website for more details and ordering info.