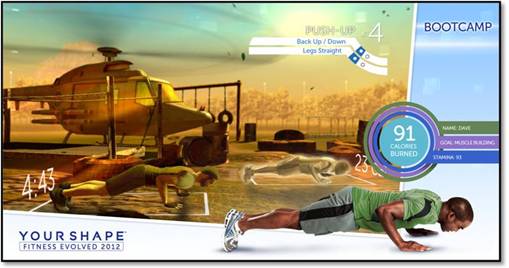 Earlier today, Ubisoft Australia announced that they have launched the game Your Shape: Fitness Evolved 2012 on the Xbox 360 Kinect. The title allows players to participate in various fitness regimes ranging from dance to yoga; floor excises, cardio and even very rigorous boot camps.
Your Shape: Fitness Evolved 2012 now offers an extensive variety of diverse themed workouts inspired by an array of exotic cultures, including African, Bollywood, Latin and Hip Hop dance fitness classes, and Zen workout sessions. With detailed backdrops and stimulating music inspired by various cultures around the world, these unique options help transform routine workouts into exciting trips around the globe that will not only capture, but keep, players' attention. The 2012 version also introduces a unique, new feature called Run the World, which will allows players to virtually run through the streets of some of the world's most beautiful cities, including New York and London.
The game completely utilises Kinect technology to accurately capture player movements for optimal tracking of movements to accurately gauge players movements and offer advice and feedback on proper excecution. Just remember that this is still a game and will therefore feature a a competitve mode in the form of offline multiplayer.
Utilising the controller-free Kinect for Xbox 360 sensor, Your Shape: Fitness Evolved 2012 features an intuitive and improved movement tracking system throughout the entire game. Not only is it able to precisely point out which moves players are doing incorrectly, but now it also acts as your own personal trainer, offering users feedback on how to correctly execute their missed movements to achieve optimal workout results. Incorporating friends into your workouts is now easier than ever with an offline multiplayer mode. Mini-games feature turn-based offline game-play that can track the scores of up to four players. At the Your Shape Centre, players can view their progression and challenge friends or users across the globe, motivating them to push themselves to the max and earn bragging rights, all while burning calories. Mobile applications and Facebook integration allow users to share their progress with friends even when they're away from their home.
Your Shape: Fitness Evolved 2012 has launched recently, pick up your copy now. Visit the official site for more info.