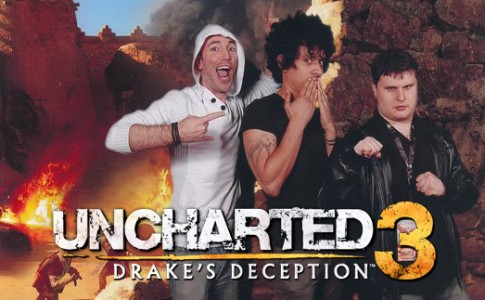 Uncharted 3: Drakes Deception needs no introduction, Sony's current flag ship series is a juggernaut in the gaming industry and Uncharted 3 has some pretty big shoes to fill. Uncharted 2: Among Thieves is one of the most critically acclaimed games of all time. Will Nathan Drake's new outing surpass it's predecessor? Sony and Naughty Dog sure think so, and to be honest I'm not here to answer such weighty questions. What I am here to do is talk about the shindig Sony and Naughty Dog threw last night at the Sydney Opera House for the Uncharted 3 Australian launch. The event was kicked off by a video introduction of Nolan North, the voice behind Uncharted's main character Nathan Drake. After some witty banter (which North is famous for) we were greeted by our host of the evening Keith Guerrette, the lead effects artist for Uncharted 3. Guerrette divulged a lot of behind the scenes stories and insights about the production like sending the team to the dessert to do research on sand, persuading Sony to allow them to build an entire new capture stage so they can do mocap and capture dialog at the same time or how the sequence on the ship was originally planned on being created by just using animation before the team ultimately decided (Naughty Dog never being one to cut corners) it would be better to simulate an entire ocean.
It's these details that set a team like Naughty Dog apart from the rest of the heap. There's an attention to detail that you don't get in your standard fare. And that goes for how they throw a launch party. The Auditorium Sony occupied in the Opera House was completely decorated for Uncharted with nets, bullets and models dressed as Nathan and Elena. After talking about the game and showing us some behind the scenes videos, Guerrette demoed a short level for us. However, instead of staying on stage he moved into the audience and sat down so he can play it on the giant display that we were all watching on.
[singlepic id=10740 w=320 h=240 float=left] After the demo we all had a chance to go hands on with the game. I'll spare you the details as not only am I sure you've read countless previews already, but chances are you're already playing the game. Obviously Uncharted 3 is a big deal and Sony is certainly treating it as such. If you've played previous games then you know what to expect. I did however get a chance to check out the game in 3D, which I was surprised how well it worked. I must admit I'm not really a huge advocate of 3D in general as I find it only works for animated films but using that logic and now trying out a few things, 3D works remarkably well for games. I find it's a natural evolution as you already have the assets working in a 3D space so moving it into stereoscopic isn't a huge leap. In addition to 3D we also got some hands on with a 3D headset where you no longer need a TV. Everything is built right into the visor you wear. I was startled how well it worked as a display and obviously the 3D was quite smooth as it's already rendering an image for each eye.
Sony also had Uncharted: Golden Abyss for the PS Vita on demo with the same build from E3. However, it was my first time with the game so I'll just say quickly that it's jarring seeing the fidelity of what's basically a PS3 game running in your hands. The game played well and the motion controls worked well enough. I'm still not sold on the idea of using them but they're optional so at the end of the day it doesn't really matter. So what do we talk away from all of this? Well Uncharted is a killer franchise and it doesn't look like Sony and Naughty Dog have shown us the last of Drake's adventures. Uncharted 3: Drake's Deception is available for PS3 and is out in stores now.