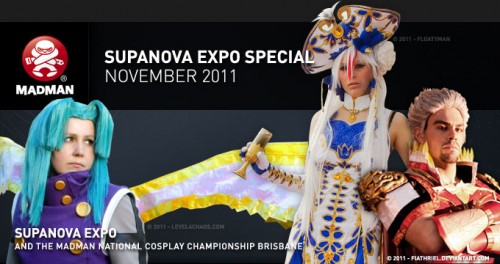 Are you a fan of Anime? Are you an obsessive Otaku? Do you enjoy dressing up in costumes? Are you a Cosplayer? Do you enjoy checking out gorgeous girls and guys? If so, then be sure to check out Madman's live stream of their cosplay championship later this year. It starts today (the 4th of November) and continues until the 6th. Madman will be livestreaming this event for the entirety of it's run.
The championship is taking place at the Brisbane RNA Showgrounds and is open for people to attend in person. Though for people unable to make it there live, they can follow This Link to watch the live stream.
To quote Madman –
Who will be crowned Australia's top cosplayer in 2011? Seven teams will be competing for that very prestigious title and a trip for two to Japan! With five state finalists and two specially selected wildcard teams, the Madman National Cosplay Championship Grand Finals will be taking place on Saturday the 5th of November at 1:30pm QST (2:30pm EST and 11:30am WST).
So if you're into cosplay, like Anime; or are just curious about the fandom make sure you tune in at the times listed. For more information check out Madmans Website.