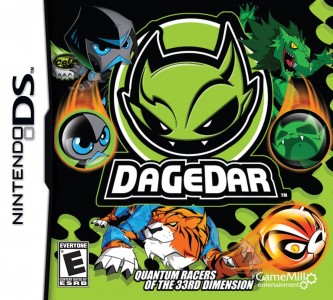 Fans of DaGeDar rejoice! Gamemill have now released DaGeDar for the Nintendo DS. If you are unaware of this growing franchise, DaGeDar involves the racing of "supercharged ball-bearings", with each featuring their own distinct look and character within. This DS romp has players taking their racing balls throughout 30 different raceways, where they can loop, drop, climb, and bank their way to the end while avoiding hazards such as gaps and blocks along the way.
Much like Bakugan, the many variants (over 100) of racing balls can also be acquired by trading with friends, which adds even more life to the game as a whole.
Additional Features Include:
Collectables: Unlock and collect up to 100 DaGeDar racing balls, for collectable and trading fun! Special limited edition, cool characters available too!
Unique Race Abilities: Each ball carries abilities of Acceleration, Top Speed, Defense and Attack modes.
Rewards: Earn DeGaDar points at the end of every race for special rewards and bonuses!
You can pick up DaGeDar for the Nintendo DS wherever videogames are sold and check out the new batch of screenshots down below.