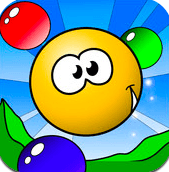 The new developer Happy Camper Games have released a new action puzzler, Pearls. In Pearls you are in control of Sam, the happiest pearl, whose life goal is to string as many colourful pearls as possible together. Because he believes in unity and friendship and other happy pearl things.
At the beginning of each level you lay out a path for Sam as different colour pearls fall from the top of the screen and players have to try and predict their position while drawing Sam's path. You have to try and make the longest chain possible without hitting the black pearls who will just ruin that perfect pearl rainbow you're trying to make. The game is clearly pretty simple in terms of gameplay, and just one of those lovely cheerful games with stylized graphics and an addictive quality that you will have trouble getting away from. Must. Make. Rainbow. Pearls.
Pearls is perfect for the casual gamer who wants something quick to mess around with to waste some time. Check out the cute gameplay trailer below!
Pearls is available for iTouch, iPhone and iPad for $0.99 – HERE