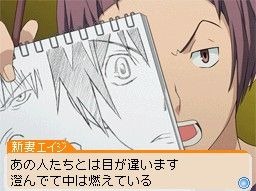 New screenshots have risen for the upcoming manga-making game/anime and manga adapation game, Bakuman: Way of the Manga Artist for the Nintendo DS. The screenshots detail the games characters and different game modes available.
Bakuman: Way of the Manga Artist is based upon the manga series about creating manga, Bakuman. The game sets out to play similar to a title such as Game Dev Story but with creating manga instead of video-games.
You can check out the new screenshots below budding manga-ka. Will you learn the way of the manga artist? Be sure to let us know what you think in the shoutbox and comments section.