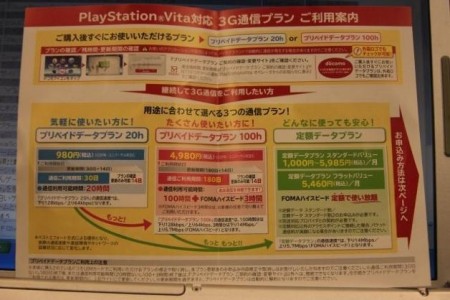 So far in the Land of the Rising Sun, the plans of the Playstation Vita's 3G have been pre-paid plans. For ¥980, a regular user of 3G would get 20 hours worth, while at ¥4,980, users will get 100 hours worth of usage plus 3 hours of high speed usage. No mention of any other plans have come to light… until now. A pamphlet detailing the Vita 3G plans have surfaced on the internet and has revealed a third plan. A post-paid plan (the green one on the right).
For the price of ¥5,460 per month, you can expect to get unlimited access on NTT DoCoMo's 3G network. What makes it better is that it is high speed 3G. Instead of the 128Kbps/64Kbps speeds the pre-paids cards will be capped at, you will get the same speeds as the 3 bonus hours with the 100 hour pre-paid plan. This is at 14Mbps/5.7Mbps.
It is also quite flexible as it will also be available as a slider plan. There will be a minimal fee of ¥1,000 and the price will rise as usage increases to a maximum price of ¥5,985. After that, you can continuing using the "FOMA high speed" network at no additional cost. This is certainly a great plan for those who want unlimited access on the go. Just don't expect to download large files.
Now I wonder if Australia will receive this sort of plan. Actually, the real question is who will Sony choose to deliver the 3G network to the handheld.