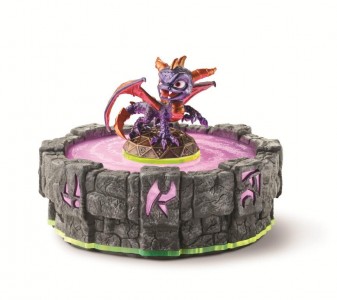 Skylanders Spyro's Adventure, the must have kids entertainment property of the year, is spiraling into stores today. The game is set to shake up the toy market, bringing together toys and gaming: combining the physical world of toys with the virtual world of gaming.
Available now in retailers throughout Asia-Pacific, the starter pack includes the game, three Skylanders action figures, The Portal of Power peripheral, a poster and trading cards. With glowing endorsements from Toys"R"Us "Holiday Hot Toy List", the Toy Insider "Hot 20 List," and Time to Play's "Power Ups" holiday toy list is sure to make an impact. Eric Hirshberg, CEO of Activision Publishing said "while it's certainly gratifying to receive recognition from the likes of Toy Insider and Time to Play, we are most excited to share Skylanders Spyro's Adventure with the most important audience of all, young gamers everywhere."
Skylanders Spyro's Adventure is the first game to deliver a cross-platform experience, allowing children to bring toys to life in magical worlds using the Portal of Power. The toys have the ability to remember experiences, making it easy to travel seamlessly from your house to a friends, or even from one platform to another, including: Nintendo Wii, Nintendo 3DS, Xbox 360, Playstation 3 and even PC and Mac. They can even travel online with Skylanders Spyro's Universe. Kids can collect more than 30 characters, each with their own unique powers and personality that expand the gameplay experience. The story arc that gets the toys involved in the game is that sinister Portal Master Kaos has cast them from the Skylands and banished them to Earth, where they are frozen into a toy form. Players can free them by placing them on the Portal of Power so they can return to the Skylands to defeat Kaos.
The game and technology were developed by Activision's Novato, California studio, Toys for Bob, led by creative director and studio head Paul Reiche. The story's adventure was written by Alex Sokolow and Joel Cohen: two of the Academy Award-nominated writers of the original Toy Story movie, while Academy Award-winning composer, Hans Zimmer, created the game's theme song and Lorne Balfe composed the score. With an all-star cast like this behind the game, it's sure to be something special.
The game includes a vast single player adventure, co-op gameplay, battle modes, puzzle solving and treasure hunts: resulting in a line of highly collectible characters, and engaging story making for a unique interactive entertainment experience. The game has been rated G, and therefore suitable for all ages and can be purchased as of today.