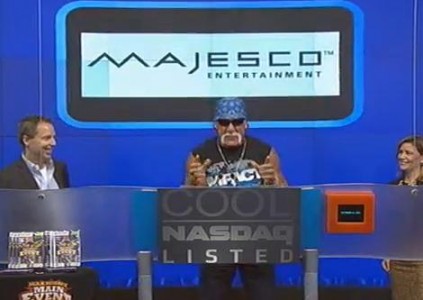 Hulk Hogan may be in the midst of a boiling feud with Sting in TNA, but Majesco and the Hulkster were recently spotted at the NASDAQ Closing Bell Ceremony in honor of the launch of Majesco Entertainment's Hulk Hogan's Main Event, which of course is the first ever wrestling title to utilize the motion based Kinect system.
"We are proud to have been able to celebrate the launch of our game 'Hulk Hogan's Main Event' by having the one-and-only Hulk Hogan himself ring the NASDAQ Closing Bell," said Jesse Sutton, CEO of Majesco Entertainment. "We are committed to bringing well-known brands to market as fun and dynamic games that span all platforms, from gaming consoles that provide a new element of full-body interactivity like the Kinect for Xbox 360, to online, social and mobile mediums as well.
As many of you know by now, Hulk Hogan's Main Event is in stores everywhere as of last Tuesday. Check out the full presentation below and go support the Hulkster and Majesco by picking up a copy today!