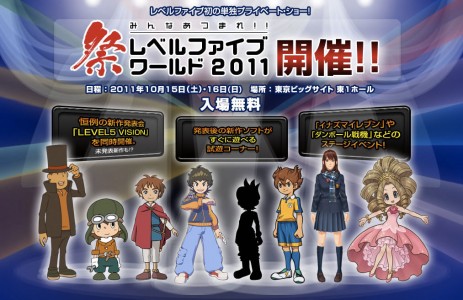 Ladies and gentlemen, this is Capsule Computers live blog for Level-5 Vision, Level-5's press conference outling upcoming titles as well as revealing new ones. I will update with each announcement made. So, get comfortable as we begin Level-5 Vision (which is roughly right now). Wanna watch it? Follow it on Level-5's own Ustream channel: http://www.ustream.tv/channel/level5world
Hit the refresh button for updates.
11:00am (Tokyo): The show has started. CEO Akihiro Hino has taken the stage. It was meant to be press only but some fans are let through.
11:04: Level-5 Station revealed. Looks like their own arcade machine. In fact, it is. There will be a partnership with Bandai as well.
11:06: Expect it in December 2011 in Japan.
11:07: Trailer for Professor Layton VS Ace Attorney. The cutscenes look good as well as in-game graphics. Will combine gameplay of both games. It will be available for the 3DS. It was the TGS trailer.
11:10: We have Shu Takumi from Capcom. He takes care of the game scenarios. He talks about how the collaboration allows a more magical setting for Ace Attorney.
Who's excited for Prof. Layton VS Ace Attorney? Shout out in the comments below.
11:14: It is playable at Level-5 World and will make a 2012 release.
11:15: Layton will also be available on smartphone sometime soon.
11:16: Speaking now is the head of Mobage. They are one, if not the biggest mobile phone game developers in Japan. It seems they will be involved with Layton Mobile. The game will be named Professor Layton Royal and should be released not far into the future.
11:20: Social game, will be available for PC (web browsers).
11:22: GUNDAM Age news now.
11:23: Mito-san for Namco Bandai is now talking about the GUNDAM Age game. This is a first time collaboration with NB Games for Level-5. Sounds exciting.
11:24: Outlining the GNNDAM Age media (Manga, Anime and Game). A PSP Level-5 GUNDAM Age game is being developed.
11:25: Is this for a new generation? Hiro and Mito believe so as they are the intended demographic.
11:26: A playable build is not available though. Now for a GUNDAM Age game trailer, running in real time. Some scenes from the anime is also in the trailer.
11:28: Game footage of the trailer appears and looks very good. This will be a RPG. Also expect a Summer 2012 release in Japan. Don't expect a release outside of Japan.
11:34: On stage right now is Sunrise's Miyakawa-san. these guys are behind the anime adaptation. The story will span 100 years across 3 generations. Now that's big.
11:36: It looks like there is a shift to the anime side of things as Sasaki-san takes the stage. As noted before, there is a focus on bringing a new generation of fans as he wants GUNDAM Age to be the "first" GUNDAM for people.
11:40: Hiro wanted to show that Level-5 is expanding into other areas. Anime, through GUNDAM Age, is one area of expansion. They are spending as much time on their anime projects as they are on games.
11:41: Inazuma Eleven Go Shine/Dark time. A trailer is playing right now.
11:42: Gameplay elements being displayed. The story differs depending which version it is. Will be available for 3DS. Hmmm… who would've though football and the supernatural would make an awesome combination.
11:45: Hiro just notes how different the two versions are, including the different wives of each version (don't ask, I don't know either).
11:46: Russian Roulette system will change the parameters of each stadium randomly for a different game each time. Interesting.
11:48: There will be an anime based on the game as well. The story is that the main character is saved be a soccer player by some evil force of some sort.
11:49: Both versions will be released on the 15 of December this year at a price of 5,800 yen.
11:50: Inazuma Eleven Wii is now playing. Will feature characters of both Inazuma 11 and 11 Go (the 3DS games). Real time gameplay will be the focus, which differs from the portable titles.
11:52: Game comes out a week later on 22 December at 4,980 yen. Both games playable at Level-5 World. A Leve-5 Station version will also be available. It is a port of the Wii version.
11:52: Now a trailer for Inazuma 11 Go. I think it is the anime.
11:53: Correction, it is a movie, released in both 2D and 3D a day after the Wii release on Dec. 23.
11:58: More mecha action as it moves into Little Battlers Experience Boost. The game will feature both co-op and vs battles. Will be available on the 23rd of November at a price of 4,980 yen. It is an updated version of Little Battlers Experience, also on PSP. If you own that version, then you can play with or against those with the Boost version. Good work, Level-5. DL version available same day 500 yen less.
12:02: NI NO KUNI TIME. Please let there be localisation news. For now, a trailer is playing. So beautiful.
12:05: The book of the DS version is in-game rather than a physical copy. Gameplay looks awesome, visuals are stunning, the soundtrack is beautiful.
12:06: Speaking of music, there will be 33 fully orchestrated tracks in the game.
12:07: They have a famous Japanese girl, Ashida Mana, for the commercials. Don't know why she is famous in Japan.
12:08: The commercials have their own theme: "Live Action NiNoKuni"
12:09: Wanna round the world trip? Find the mistakes in the Ni No Kuni promotional video and it is yours, if you live in Japan. There will also be an event on UStream called Virtual Ni No Kuni.
12:10: NI NO KUNI WEST NEWS: Official name is Wrath of the White Witch, logo similar to Japanese release, will see release in 2012, published by Namco Bandai games. WIll be released in both North America and Europe, so Australia shouldn't miss out. No specific relase date, though. Sad face.
12:13: Moving on, its time for some Girls RPG Cinderella Life.
12:13: Think of it as the opposite to the regular dating sims out there, which is guy looking for girl. Will see a release on the 3DS. Man Level-5 is giving the 3DS some love. It will also feature guest appearances of famous male anime characters.
12:16: Theme sung be Princess K, a group created specifically for the game. They will perform the song live later in the day. Expect that for the UStream channel.
12:20: The Layton series will be debuting on the iPhone as Layton Brothers Mystery Room, itself a rebranding of Mystery Room announced a few years back.
12:21: The main character happens to be the son of the famed detective. But, as it is being titled as Layton Brothers, does that mean Professor Layton had two sons?
12:21: That question will be on hold as we divulge into Fantasy Life. A new trailer is being shown.
12:23: Final Fantasy veterans Yoshitaka Amano and Nobuo Uematsu will be involved.
12:24: 20 different classes will be playable.
12:24: The 3DS game will be available in 2012. Hopefully the game will see a release outside of Japan. It will also be playable on the show floor of Level-5 World.
12:25: Now for some Time Travelers.
12:28 Director Jiro Ishii is on stage. A trailer is shown. Love the theme song. Used ot be 3DS exclusive but was announced to make an appearance on Playstation Portable and Playstation Vita. Level-5 better localise this game. Will be released in 2012.
12:32: 5 playable characters, set in 2031, plays like a movie according to Ishii. End quote of trailer is really interesting: "Do you think you can change fate, would you if you could?"
[POST CONFERENCE] I will add that the theme of the trailer is pulling my heart strings. It is a very beautiful song, seems to fit the theme of tragedy and emotional pain. PLEASE LOCALISE THIS, LEVEL-5. WHO'S WITH ME?
12:33: Now for Guild 01. Four games as one project. Hiro describes it as both a game and a project.
12:34: A list of developers for the games: Yoot Saito, Suda51, Yasumi Matsuno and a Japanese comedian (?)
12:37: Suda51 shows off their game. It's a 3D mecha shooter starring the daughter of the president of Japan. Looks interesting. All of it is in anime though. No gameplay footage.
12:39: Our comedian is up next with "Rental Weapon Shop". Yes, the focus is RENTING weapons, meaning you bring them back to the shop.
12:40: Yoot Saito is next with Air Porter. He wants something "simple and addictive".
12:42: Yasumi Matsuno has a RPG for the project. It will be entitled "Crimson Shroud". There is a trailer playing.
[UPDATE]: All of these games will be available for the 3DS.
12:42: Hiro wants the project to go beyond games and into other media. They do want to expand, Level-5.
12:43: The last announcement for Vision. What will it be?
12:44: Youkai Watch. Hiro is introducing a new trailer for the game.
12:46: This is a game but the trailer is mostly animation. The main character of the game will have access to various monsters/creatures to solve all his troubles. Ummm… hasn't that been done already?
12:47: The main character uses his watch. Hang on, don't we have something like that already?
12:48: Like most of Level-5 projects, it will be in game, anime and magna form. Seems to be the Japanese Media Triforce.
12:49: Nothing more about the game will be revealed, meaning the platform is a mystery. Even I couldn't guess it.
12:50: On that note, Hiro is closing the Vision press conference. He does share a few details about the event but the discussion of projects have ended. That is my cue to leave then. UStream will show the trailers from the conference.
So, any games that interest you? Ni No Kuni: Wrath of the White Witch will be a must pick up for me, so will Time Travelers if it makes localisation. The 3DS received the most love and having 3rd party support like that is a must for Nintendo's handheld. Fantasy Life and Layton Vs Ace Attorney are my picks.
This is Joshua Spudic signing off. Enjoy your day and make sure you catch up with Level-5's various trailers, especially Ni No Kuni, Fantasy Life and Time Travelers.