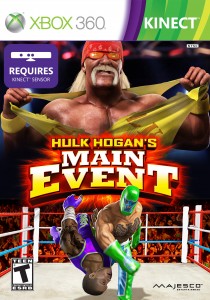 Listen up you Hulkamaniacs! Have you been saying your prayers and eating your vitamins? Good! Now you should get to the nearest store and check out Hulk Hogan's Main Event, which is available for the Xbox 360 with Kinect as of today. Let me tell you something, brother! This is the first Kinect wrestling title to date and puts you..YES YOU, in the role of the Hulkster himself as you use the motion controls to battle your opponent in-ring as well as gain the love of the crowd by mocking some of the most famous poses in wrestling history!
FEATURES, yes features..DUDE! Majesco released a brand new list of what the millions of Hulkamaniacs can expect when they pop in their 24 inch pythons game disc in their Xbox 360!
Create your king of the ring by choosing from different body types, faces, hair styles, tattoos, gear and more.
Choose from nine thrilling venues including the Backyard, Uprising and Inferno stadium.
Xbox LIVE® Leaderboards showcase 'Stunt of the Day' and 'All Time Best Stunts' from players nationwide.

Multiple Gameplay Modes extend the challenge:
Campaign: Work your way from backyard matches to the big stage while keeping the crowd on their feet.
Head-to-Head: Take turns delivering punishing combos with help from a friend.
Quick Stunt: Practice any extreme stunt before primetime in the ring.
Hardcore: Fight tough-to-beat opponents under the extreme difficulty setting.
Tutorial: Learn basic moves and special stunts to win the match.
Replay Highlights: Relive your best stunts in slow motion to revel in your glory days.

"Hulkamaniacs everywhere should get off the couch and rule the ring with Hulk Hogan's Main Event, where I'm going to teach you all to perform for the crowd and compete in the ring as wrestling superstars," said Hulk Hogan.
So WHAT YA GONNA DO, WHEN HULK HOGAN'S MAIN EVENT COMES TO A STORE NEAR YOU!
(check out the new launch trailer down below)