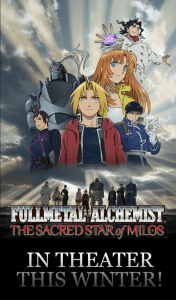 U.S. Fullmetal Alchemist fans, rejoice! Funimation have teamed up with Eleven Arts in order to undertake a huge nationwide theater run for the latest Fullmetal Alchemist movie, Fullmetal Alchemist: The Sacred Star of Milos.
The film is set to run in theaters this Winter, however specific dates and locations are still forthcoming. This is one of the quickest fast-tracking of an anime film from Japan to America in recent history, with the film only hitting Japanese theaters roughly 6 months before it hits the U.S.
Funimation have also confirmed that they will be releasing the title on DVD and Blu-Ray in Spring 2012. Which isn't too long a wait when considering it would have already been in theaters for your viewing pleasure.
What do you think of this announcement? Let us know in the shoutbox or comments section.