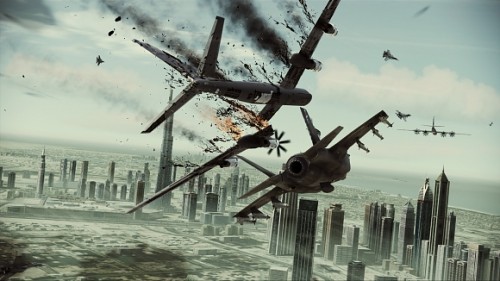 Today marks the release date of Namco Bandai's next generation aerial shooter Ace Combat: Assault Horizon! Available in all good video game retailers across Australia & New Zealand for Xbox 360 and PlayStation3, Assault Horizon brings many new improvements to the franchise and includes an intense single player, co-op and online multiplayer taking place in real world locations where you can take down enemy pilots and literally tear them apart, spewing oil and debris across the sky.
"This was a chance for us to take the franchise in a completely new direction, and that is exactly what we have accomplished with Ace Combat: Assault Horizon," said the Producer at Project Aces, Kazutoki Kono. "We're excited for both long-time fans of the franchise and newcomers alike to get their hands on the game and get closer to the explosive action than ever before."
If that isn't enough, fans of the Ace Combat series can also look forward to yet another title coming soon in 3D, as the forthcoming Ace Combat: Assault Horizon Legacy for the Nintendo 3DS on December 1st, 2011.
Make sure you check out our review of Ace Combat: Assault Horizon here!