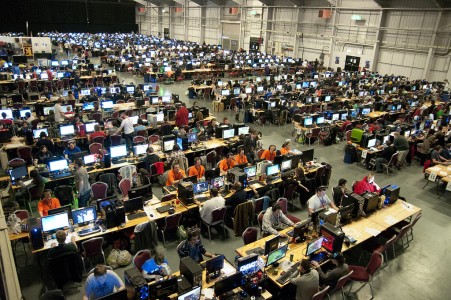 Competitive gaming in the UK has never been more popular – that's the news to emerge from the recent insomnia43 event, as organiser Multiplay unveils the show audit.
Insomnia43 took place over the August Bank Holiday weekend (26th-29th August) at the Telford International Centre. Organisers have revealed that over 5,060 gamers passed through the doors to compete for a total prize pot worth in excess of £50,000.
insomnia43 broke the world records for biggest ever Team Fortress 2 tournament (in terms of prize fund and total number of players) and the event also set a new UK record for the highest number of gamers on one network, as over 2,500 players were connected at one time.
The UK representatives for the World Cyber Games were picked for Star Craft II and League of Legends. Samayan 'Bling' Kay triumphed at Blizzard Entertainment's real-time strategy game, whilst Joe 'Moojuic3' Hill, Mark 'Kaution' Dennett, Scott 'Terrroronyou' Musgrove, Iain 'mrunhappy' Sully and Ben 'Tempestra' Farrimond won League of Legends – all bagging-expenses-paid trips to represent their country in the European final in Poland, and the world final in South Korea.
"insomnia43 exceeded our expectations," says Craig Fletcher, MD, Multiplay. "With over 5,000 through the door, over a quarter of a million viewers watching the live streams online and some real spikes in all-round activity, we've shown again there is a real hunger for a large-scale competitive gaming event. In the last 30 days alone, the insomnia43 site has had close to five million pages views, and over 1.1 million visitors. The videos from the event have already been viewed over 100,000 times.
"We've already announced insomnia44, which we expect to be the largest winter event of its kind."
Insomnia43 also boasted the first ever UK consumer appearance of Battlefield 3 on PC as part of an exhibition space which included stands from Currys, PC World, Samsung, Medion, liyama, ASUS, Riot Games, Aquatuning, ESET UK, Sapphire, Anthony Nolan, Kingston, Pro Class TV, Quiet PC, Razer, Ttesports, Kustom PC and Antec, to name but a few, making it the biggest insomnia exhibition space yet.
Insomnia44 will take place between 18th and 21st November 2011. Early bird tickets are available from http://iseries.multiplay.co.uk/news/i44/.