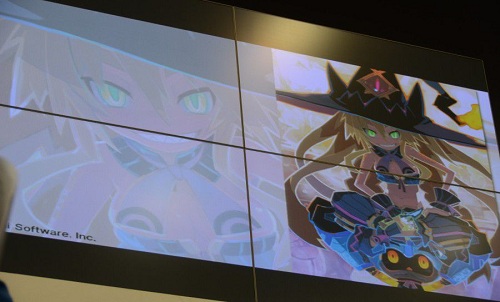 Hey, remember back in August when Nippon Ichi teased a new character with the above image? Well it seems that now is the time for them to reveal what game that is. The character you see above is named Metallica and she is the main character of an upcoming action RPG from Nippon Ichi named The Witch and the Hundred Cavalrymen. The game will be a PlaySation 3 release according to Dengeki Playstation and will be a dark open world fantasy action RPG.
If that wasn't enough genres for you, the story will follow Metallica, an attractive witch from the swamp who is battling the ugly witch of the forest and players will play as the main leader to her hundred cavalrymen. Metallica may only be able to see one soldier at a time, which is you, but she can summon more to your side at request.
The title will be open world, with no transitions between towns and the world and players can even choose to side with right or wrong and certain characters and towns can become enemies or allies depending on your actions. The title will be rather dark with its gameplay as well as quite brutal which is a change from Nippon Ichi's usual titles, but Disgaea designer Takehito Harada is taking the reigns for the game's graphics. Expect to see The Witch and the Hundred Calvarymen in Japan Spring of 2012. Let us hope that perhaps a localization by NIS America will shortly follow.