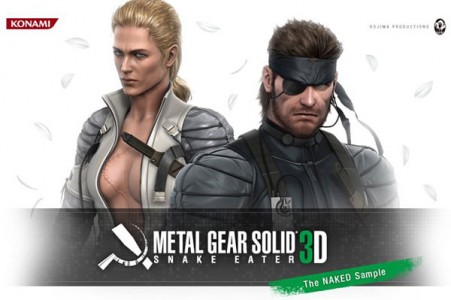 One of the booths with longer lines at Tokyo Game Show was Konami. Whether it was that people weren't being given time limits, or that the games were popular, I decided to brave the queue and play some of their soon to be released titles for the Nintendo 3DS. One of the longer lines, and perhaps with good reason too, was for Metal Gear Solid Snake Eater 3D. While I was only able to play for a short time, I was impressed with what I had seen and quickly realised this was unlike any other game I have played on the 3Ds to date.
While I did like the game, the controls took a little bit to get used to. The game played as something not specifically built for a portable console, but Konami have done their best, I am sure given more than 10 minutes the controls would be easy to adapt to. Really, the only problem is the camera rotation control being assigned to the A, B, X and Y buttons which I found a little odd. But as I said, given more time I would adapt and be well on my way to enjoying the game.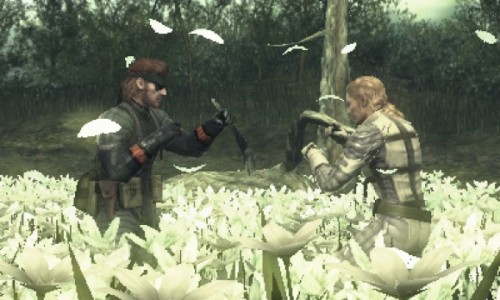 When playing any game that involves a gun, and isn't on rails of course, I find myself racing through firing from the hip wildly to complete my objectives (like me playing Goldeneye as a teenager). Metal Gear Solid Snake Eater 3D is not this sort of game. It is nearly impossible to race through and forego the art of a stealthy attack (at least in the level I played through). I found this instantly enjoyable. From crawling through long grass, to using a silenced gun to pick off enemies from safe vantage points, the game feels as if has a high level of mastery, even if it actually doesn't. The sense of achievement making it through an area is not something I often feel playing a game, but Konami have done a great job boosting my ego.
I find that very few companies actually make a 3DS title that has used the 3D technology to its best advantage. While I'm sure part of the problem is my eyes, a lot of early release titles on the 3DS hurt my eyes, or don't work in 3D at all. Konami are not one of these companies. Metal Gear Solid Snake Eater 3D in particular boasts some impressive 3D graphic and a highly detailed environment for you to navigate through. I regret not playing the game through much, but by the same token, the short play through I had ensures that this is a title I'll be picking up.
Click here for our full coverage of Tokyo Game Show 2011
Related Content
Metal Gear Solid 3D to be released early 2012
Sep 20, 2011
Metal Gear HD Collection – New Details
Sep 16, 2011
Metal Gear Solid HD Collection given Japanese release date of November 23rd
Sep 15, 2011