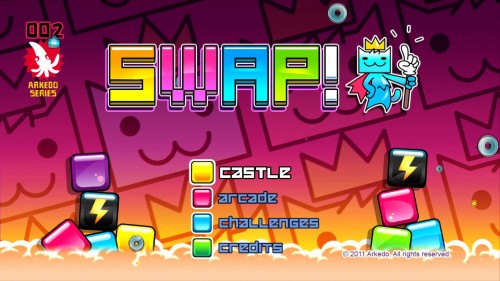 The Arkedo Series, published by Sanuk Games is returning to the European Playstation Store with their second installment SWAP! The puzzle game will be available from the 21st of September. A price has also been set: €1.99. For those in the United Kingdom, expect to pay £1.59.
SWAP!, the second of the collection of three games from Arkedo Studio, is a four match puzzle game. You are King Kat, who must find his way back to the castle after going out on an all-nighter and pulling off a milk binge. Yes, that is the story. You can check the screenshots of the game below.
The Arkedo Series is made up of three downloadable titles: JUMP!, SWAP! and PIXEL!. JUMP! is now available on the Playstation Store and PIXEL! will have a release date soon.
You know what's awesome about Capsule Computers? We have a review of JUMP! right now. Want to know if it is worth it? Well… what are you waiting for? We will have a review of SWAP! as well, so watch out for that one.