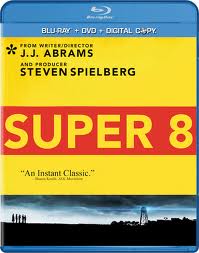 Paramount Home Entertainment has announced the debut of a DVD and Triple Play pack for hit movie Super 8. The Academy Award winning movie breaks the usual movie genre boundaries, and dares to use a primarily young cast to bring a unique and enthralling story to the screen.
The Super 8 Triple Play edition is up for $49.95, which includes the DVD, Blu-ray and Digital copy. As well as these three versions you get numerous behind the scenes documentaries, deleted scenes and commentary from writer/director J. J. Abrams and producer Bryan Burk. Additionally, there is a DVD that has the feature, commentary and two of the behind-the-scenes documentaries for $39.95. These are both coming out for release on November 17.
For those of you who haven't seen Super 8 yet, this would be a great purchase, this movie is really worth it. Keep an eye out for an upcoming review on the Triple Play release.