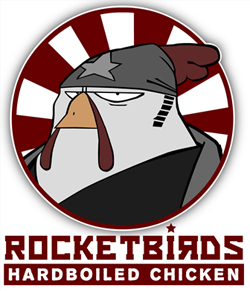 Now, what do you get when you mix a chicken in a very bad mood, a collection of different weapons, a totalitarian governement headed by penguins and a thirst to bring it down? You get Ratloop Asia's Rocketbirds: Hardboiled Chicken, announced for release on the PSN. The game will hatch upon the world on October 18th at the price of US$11.99.
This platform adventure game follows the exploits of Hardboiled Chicken, a rebel who's ultimate goal is to take down authority… I mean the penguin government of Albatropolis. He wants to take down the head penguin, who has become a totalitarian stooge running the city to the ground. There is also a co-op storyline. You and a friend will become two budgies on a mission to save the general's daughter.
So, what can we expect from Hardboiled Chicken and his mission of mass destruction:
15 Chapters in the Solo Campaign.
10 Chapters in the Co-Op Campaign.
An assortment of puzzles throughout the levels.
Stereoscopic 3D support.
Mini-stories about Hardboiled's past and the truth behind the penguin leader and his government.
Various weapons, including pistols, shotguns, Uzis, MP5s, M60s, AK-47s and the ultimate weapon… Brain Bugs!
Exclusive music from indie band New World Revolution plus unlockable music videos.
This game has only been announced for a US release. So, are you going to save the city from a crazed up penguin and its penguin filled government? Sounds like some penguins have some explaining to do, but even then, Hardboiled Chicken might not give them the chance.