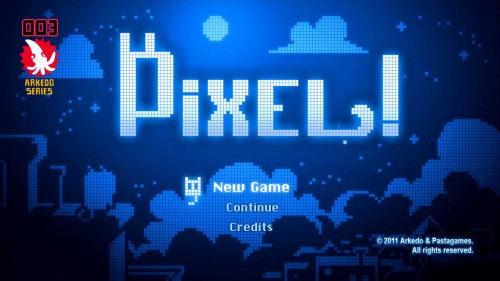 PIXEL!, the third entry of the excellent Arkedo Series, will grace the Playstation Store on the 28th of September. The game, however, isn't being developed by Arkedo alone. This time around, they have co-developed the game with fellow French developer PastaGames, who developed Maestro Jump In Music, a rhythm/platformer hybrid. Staying the same is the publisher, which is Sanuk Games. Expect to pay €1.99 / £1.59.
PIXEL! follows Pix The Cat in a world of white squares and a blue background. Even though there are the usual platformer mechanics, the game has some unique features, the big feature being the use of a magnifying glass to investigate some pixelated blocks. You may already have met Pix the Cat in PIX'N LOVE RUSH, a game released to much critical and public praise on PlayStation Minis, iPhone and iPad.
While PIX'N LOVE RUSH was built around short scoring-oriented sessions, "PIXEL!" is a more traditional platform adventure. And while PIX'N LOVE RUSH was constrained to tiny handheld screens, "PIXEL!" takes full advantage of your expensive HDTV: the blue halo surrounding big fat pixels had never looked so good!
Check out some screenshots below and have your say on the game.