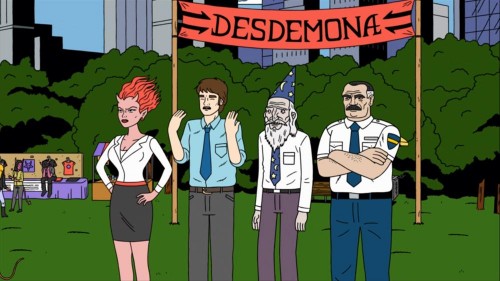 Americans are just plain ugly! Well, at least in Ugly Americans: Apocalypsegeddon they are. Backbone Entertainment alongside 345 Games made the game available for the Playstation Network and Xbox Live Arcade on August 31. Enjoy a fast pace action shooter that can be played co-op online and locally.
With their world drawing near to its end, our common day heroes from the New York's Department of Integration must find the cause of terror and stop it in its tracks. Play as Mark Lilly, Callie Maggotbone, Leonard Powers, or Frank Grimes and unleash your own version of hell on any opponent. By picking up random objects in the world, your arsenal of weapons can be anywhere from throwing baseballs to launching rockets.
Remember its Ugly Americans: Apocalysegeddon. If you spelled it wrong, you are probably right.
Enjoy the trailer, and don't forget to buy this game! (HERE) – Xbox 360 (800 MSP)