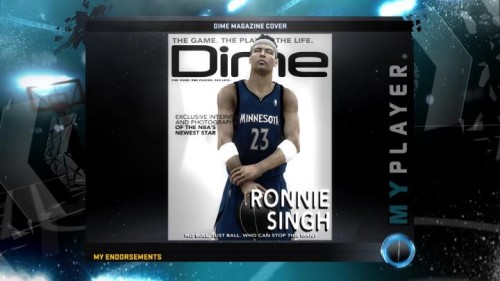 2K Sports have circulated extensive details on My Player Mode for the upcoming NBA release, finally giving us some material that's not related to the NBA's Greatest mode.
The way you get drafted this year has changed, and now includes interviews with team GM's. 2K have also brought in NBA Commissioner David Stern to do some voice-overs for the draft announcements, so it won't just be completely silent in the draft hall this year.
Contract negotiation has been expanded and you can now use your earnings (which you receive on a fortnightly basis) to purchase things like skill points, dunk packages, and some more unique ones like hosting a clinic in order to build fan support. This seems like it could be a really neat feature assuming salary increases aren't too hard to come by.
There's still no standard sim option for matches which will probably annoy some, but instead 2K have implemented a "Play Next Key Match" feature. Basically what this will do is advance you to the matches which are most important, i.e. team rivalries, individual player rivalries, and matches that will have an effect on or are a part of the playoffs.
2K have also added Player Abilities, basically expanding on individual features of skills such as dribbling, dunking, shooting and post moves. It seems like this will be a way of making you spend your salary more wisely and [unfortunately] slow down the progression of your player.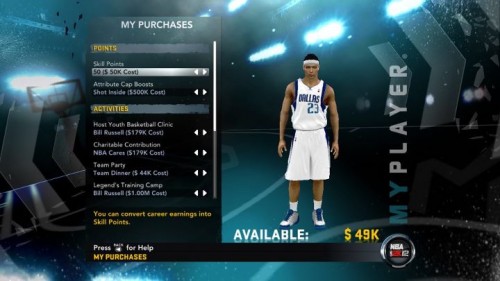 Other features for this year are endorsements, which was included in 2k11 but apparently has been boosted as well although they haven't really said how. One would presume that you can earn money through these and put it towards your purchases. There are also still even more improvements made to areas such as press-conferences, drills, player buzz, and milestones.
Ultimately the goal of My Player mode is to get your player into the Hall of Fame, and they've even added stuff to that such as speech-making.
If you want to read word-for-word what 2K have said and get all the nitty, gritty details, click here and go have a look at the post on the Facebook page.
With still no word on whether or not there will be a real season this year, at least we've got this to still be excited about. 2k12 will be out on October 4th.