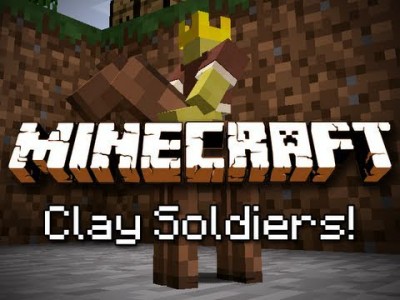 Captain Sparklez shows us once again an epic mod. Given the ability to create different colored clay soldiers, he shows off the intense hatred between varying colored warriors.
The soldiers can be upgraded through several different items. Placing a stick near a clay soldier gives it a wooden weapon that increases attack strength. Additionally, the weapon will be edged if a sharpening stone is placed nearby. Upgrading armor works similarly but with a piece of leather.
Weapons and armor not enough? Adding an explosive to a clay soldier might catch your interest. By giving gunpowder to a soldier, you create a martyrdom warrior. Upon death, these tiny soldiers will explode devastating the world around them – destroying blocks.
If you are up for some explosive entertainment, download the Clay Soldier Mod. (HERE)
Creation of 4 Clay Soldiers: 1 Soul Sand, 1 Clay
Creation of 1 Blue Soldier: 1 Clay Soldier, 1 Blue Dye
Epic battle between colored factions: Priceless