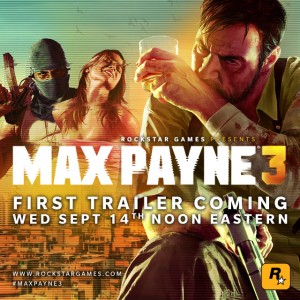 Rockstar cetainly aren't ones to beat about the bush! Only a day after promising lots of Max Payne 3 news over the coming weeks, the company have announced a release date for the game's first trailer,  complete with its own piece of artwork. We're getting a closer look at Max himself this time round, all blood and stress and booze.
What the trailer itself will feature hasn't been mentioned, rather deftly adding another little hook of anticipation as to whether there will be actual gameplay on show.
If you're not running in the same time zone as the Rockstar team (EST), then Australians are looking at the early hours of Thursday morning (3am Sydney), and Europe around 5pm (UK) on the Wednesday. But of course, keep an eye on Capsule Computers for all the latest!