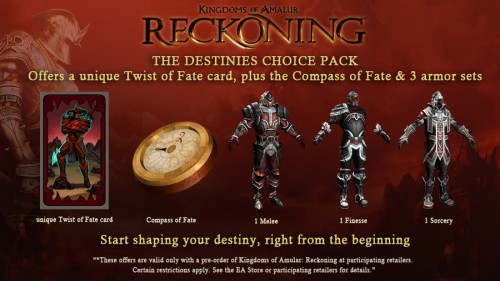 38 Studios and Electronic Arts have revealed a few of the items you will be able to receive if you preorder Kingdoms of Amalur: Reckoning. Depending on your choice of retailer, one of the 3 packs below will be yours. Which one will you be getting?
The Destinies Choice Pack: Offers a unique "Twist of Fate" card to enhance the beginning of your gameplay experience, the Compass of Fate and three unique armor sets. Each armor set is tailored to a specific class which players will define and redefine during their time in Amalur.
The Fate-Touched Weapons Pack: Players can enter battle as fully prepared as ever with an arsenal of rare Fate-Touched weapons including a longbow, hammer, staff, faeblades, daggers, scepter, chakrams, longsword and greatsword. The weapons will help satisfy every player's combat style with Reckoning's on-the-fly weapon swapping in combat to take down even the most dreadful of foes.
The Ultimate Treasure Hunter Pack: For treasure hunters who will dive into every nook and cranny in the world of Amalur, the Dowsing Rod will seek out all reagents for concocting potions on your in-game map. A worthy companion tool for any adventurer, the Dowsing Rod will help players get the most out of their alchemy skill.