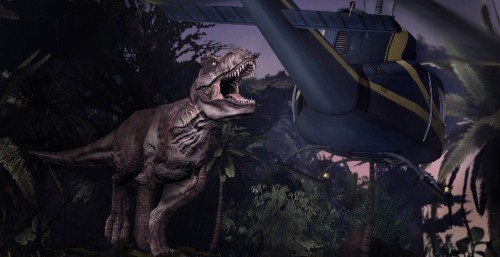 List of places to avoid in case they are infested with dinosaurs: portaloo, long grass, kitchens. Not a complete list I think you'll agree, but those are the ones that the first Jurassic Park movie embedded in my subconscious as a small child(thanks for that Mr Spielberg!). It's been a while since the reconstructed dinos have appeared on any media format, so before the fourth film appears (in 2 or 3 years time, according to the man himself at Comic Con), Jurassic Park: the Game will have to keep dino fans satisfied.
The newest trailer from Telltale games is packed with T-rexes and Velociraptors, and looks to have nailed the park environment perfectly. If the atmosphere and gameplay are up to the task, it should be a fantastic package for fans of the Jurassic Park universe.
The dino's will be unleashed on November 15th, with the game available as a download on PS3, PC and Mac, and a full retail release for Xbox 360. Unlike some of Telltale's other games, this one will be released in full across most platforms, with the iPad the only one set for an episodic release.