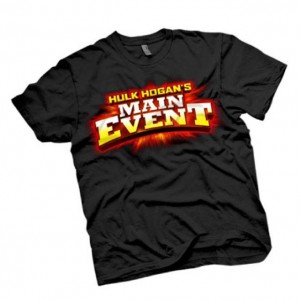 Wrestling fans have had a pretty good year so far in terms of releases. Earlier this year, we seen WWE All Stars hit the shelves and of course THQ's WWE '12 is now just a few months away. One title that also deserves some attention though is Majeco's celebration of the Hulkster himself, Hulk Hogan's Main Event. While this Kinect title is about taking out your opponent in the ring, it is also geared more towards the actual showmanship of the sport as the player must learn Hulk's trademark moves and poses to gain the attention of the crowd.
Those who are planning on picking up Hulk Hogan's Main Event will also be happy to know that all consumers that pre-order from Gamestop will now receive their very own T-Shirt, bearing the game's logo. Some might be thinking "yeah, it's just a shirt", and yes, you would be right…but, it is a rare tradition for any game released these days to offer a physical pre-order bonus, which makes Hulk Hogan's Main Event's offer all the more special.
Hulk Hogan's Main Event is due out this October exclusively on the Xbox 360 with Kinect, so take you vitamins, say your prayers, and put down a pre-order to show your support of the Hulkster himself.