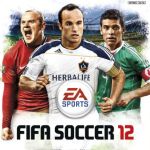 Fifa 12, dare I say the biggest sports franchise in gaming, has arrived on the iOS. On top of all the other consoles it has already been released on today the iOS has been added to the list. And with Fifa 12 hitting stores, what better time to introduce it to the market than with Fifa fever high.
For those of you expecting an obvious downgrade, don't worry, there are over 500 international clubs with the real players, 32 real stadiums, great graphics, and of course some damn good footwork controls to top it all off. Plus, for the first time on mobile, you can also play manager, shifting members around, and making your team the best of the best. There's also a great mode in which you can use two iPhones as controllers with an iPad as the screen for the game.
Watch the trailer below! Plus, keep an eye on the site for a review.
Fifa 12 is available for $4.99 – BUY NOW