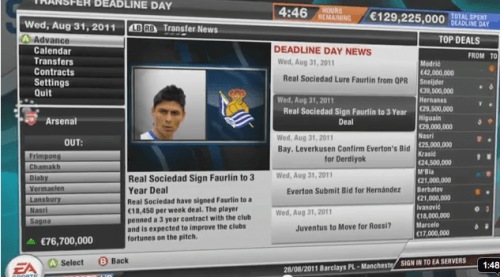 Just in case you weren't already excited enough for FIFA 12 to come out, I'd like to drag you away from the demo for just a few minutes and show you EA Sports' latest video addition. The flagship of FIFA seems to have gotten a whole lot better with some great improvements to player transfers.
Simon Humber, the Creative Director of FIFA 12, talks us through player transfers and in particular the deadline day. You now get 8 "hours" in which you can work through to either get some last desperate attempts at persuading a player to join your team or do your best to hang on to all your prized players.
"You may find yourself getting involved without meaning to get involved. You might have a great squad, you're happy with it, but suddenly a bid comes in…it really can change your squad dramatically at the last minute" Said Humber.
So boys and girls, in exactly two weeks you will be able to get your hands on a copy, let us know what you're most excited about and also what you've thought of the gameplay so far from the demo.