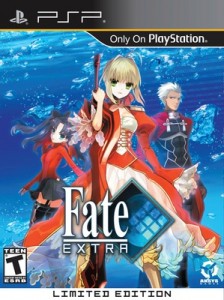 Aksys Games have announced that the North American version of the Fate/EXTRA game for the Playstation Portable will like the Japanese version feature a special edition jam-packed with Fate/EXTRA extras!
The game was previously released in Japan in 2010 and is based upon the Fate/Stay Night visual novel, of which has also spawned anime adaptations.
The special edition bundle of the title includes a 15-page Fate Visual Works art book as well as the 11 song limited edition Fate Soundtrack. You can pick up the Fate/EXTRA special edition for $39.99 and the standard edition for $29.99 and the PSN version for $24.99.
What do you think of the Fate/EXTRA extras? Leave a comment letting us know.