While those of you in Japan are enjoying Tokyo Game Show 2011, spare a thought for us here in Australia that have another month to go before our very own games expo.
Thankfully, EB Games have released the map for their upcoming EB Expo, which is due to be held on October 15th and 16th. The map showcases the layout of the Gold Coast Convention and Exhibition Centre where the event is taking place, and we can say it sure does look great.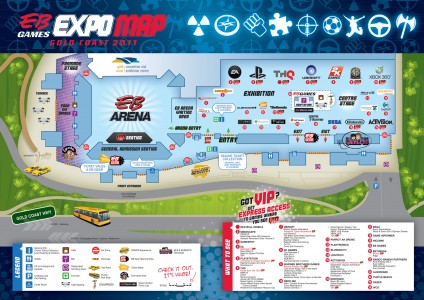 More than 20 publishers and developers will be exhibiting upcoming content at EB Expo, including Ubisoft, Activision, and Bethesda. Here's our pick of the games that will be exhibited:
Activision
– Call of Duty Modern Warfare 3
– COD Elite
– Prototype 2
Bethesda
– The Elder Scrolls: Skyrim
EA
– Battlefield 3
– Mass Effect 3
Konami
– Metal Gear Solid HD Collection
– Pro Evo Soccer 2012
Namco Bandai
– Soul Calibur 5
Playstation
– Uncharted 3: Drake's Deception
Square Enix
– Final Fantasy XIII-2
Warner Bros. Games
– Batman: Arkham City
– LOTR: War in the North
Xbox 360
– Forza 4
– Halo Combat Evolved Anniversary
For more information on EB Expo 2011, check out the official site here. Stay tuned for more news and comprehensive coverage of the event!